Designing the 2019 Camp T-shirt
Designing the 2019 Camp T-shirt
Cub Creek has a unique tradition of changing up our camp shirt design every year. It's always so exciting to reveal a new shirt to your camp community after many months of thought and preparation. And let me tell you: There is SO much thought! *If you only knew how difficult I make the color choosing process for our team*. Designing a camp t-shirt is an incredibly in depth process for me. Being lucky enough to reinvent a shirt every year opens up loads of possibilities. But in all those possibilities, you're thinking of what is best for camp. And above all else… what will the campers like!
Welcome to my brain...and my first Blog Post!
Ari here. Camp's drawer-of-things. I have been lucky enough to share my love for illustration with camp as creator behind the last 4 years t-shirts.

This 2019 Camp T-shirt was a project forever in the making. At this time last year, I had an idea to design a "camp bucket list" as a camp shirt. Alas, with just a few weeks before camp, I wasn't able to fully bring the idea to life. I thought about this concept throughout the year , hoping to make it a reality this summer. Luckily, the stars aligned and the time was right to pluck this idea from my noggin and put it on a camp shirt for this summer!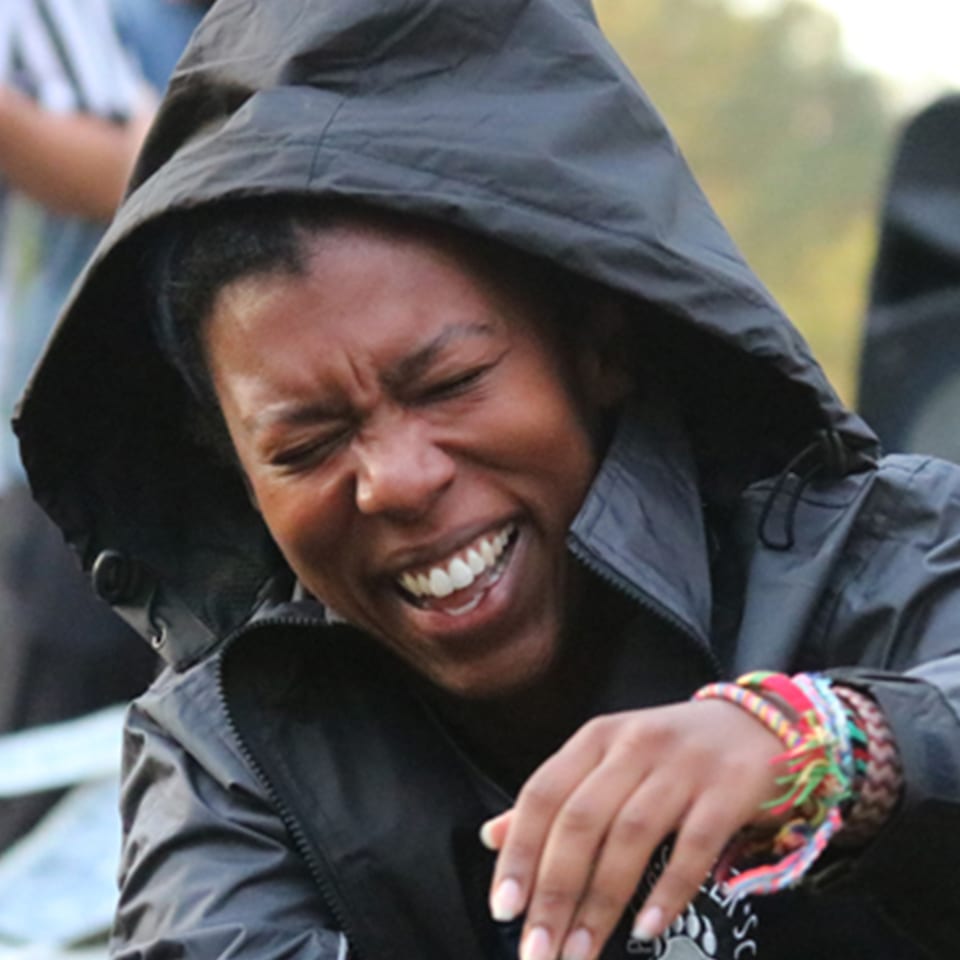 Ari is our Assistant Director and Creative Director. She oversees daily camp operations but loves to focus on camp memories and the "camper experience". She supervises Cub Creek's ASIT Program, our sister camp- Animal Camp Jamaica , and camp's photography team. 2019 will be Ari's 8th year at Cub Creek! Learn More About Ari!
I'm so honored to be able to make something that people wear all summer long and keep over the years. I want these shirts to be as timeless and long-lasting as the memories and bonds you make here at camp. This shirt means more to me than the ones I've created in the past; It represents all aspects of camp not just one area or idea. I think anyone would be challenged to find only ONE thing they love about camp, and this shirt embodies them all.
This is probably my favorite camp shirt.
*THERE! I said it!*
Making this shirt available to everyone was a big deal. Our camp family extends beyond those who just come to camp this summer. This shirt is for the friends that I've worked with over the years who have moved on to other places. It's for the campers who have grown out of the program or those who no longer come to camp. It's for the parents, grandparents, guardians and sponsors who have sent many campers to camp over our 28 year history. It's for all the Staff who have dedicated 3 months of their precious summer to give an unforgettable summer camp experience to children ages 7 to 17. And it's for the supporters- our friends and family who have never attended camp but who love us and what we do. You are all , and always will be a part of our camp community. And now you get to dress like it 😉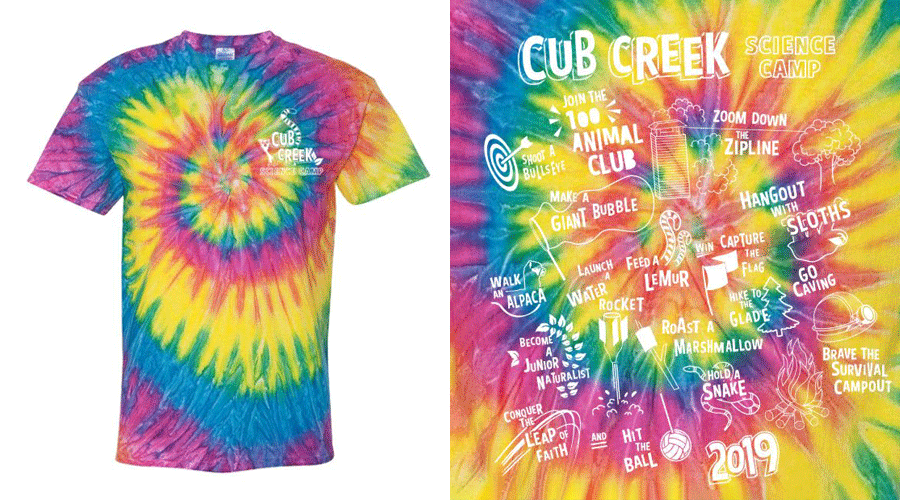 For those joining us this summer, the back of these shirts are your guide to an awesome at Cub Creek! If it's your first time, try your best to do as many of these things as possible this summer! Go caving, hold a snake, go down the zip-line! The more experiences you have the more memories you'll leave with. If you're returning to camp try to find something you haven't done before! In the unlikely event that you've done everything on this shirt, take someone along with you who hasn't. Sharing experiences at camp creates a whole new opportunity for memories.

This design came with a lot of firsts, too. For the first time ever, we're giving campers and ASITs the ability to have options (hoodies, sweatshirts, long-sleeves, etc) in their apparel choices; A LONG time dream of Tie-Dye shirts is finally happennninnnnggg; AND we've opened our first online store !
I couldn't end this without saying some thank yous to Anna for allowing me to be a little bonkers with ideas, Martin ( @martsart_14) for always supporting my wild thoughts and helping them come to life (he made these GIFs y'all!), Lori for letting us take on new projects like these, and our friends at Key Sport for making this Pop-Up shop a possibility and creating our shirt from my original design. And to everyone who has shared kind words about this shirt, a huge thank you 🙂
I low-key hope this your favorite camp shirt, too.