International Camp Staff
We are always excited to offer positions at Cub Creek to international staff! Staff from different countries provide our camp and campers with an experience to meet and learn about new cultures while sharing some American traditions as well. Working at a summer camp is a once in a life-time opportunity! But it can also be overwhelming when trying to decide which camp to come to. This page will help International Staff understand a little bit about where we are located and will give you ways to find out more about Cub Creek.

International staff currently living overseas will need to work with a staffing agency to secure a working visa. If you do not have a current application with an agency please reach out to us so we can help you through the process. International students already living in the US are also welcome to apply. We offer internships that will comply with F-1 VISA requirements. Working with your school, we can offer CPT or OPT training oportunities releted to your degree requirements.
What makes Cub Creek special?
Cub Creek is the only summer camp in the United States with an interactive zoo! All our campers are able to have special interactions with camp's 100+ species of animals. In addition to our animal area, campers have the ability to select from a variety of activities including archery, crafts, science, and our ropes course. You can read all about camp's activities here.
What do Camp Counselors do?
Counselors are our primary care-takers for campers. As a team, the counselors in a cabin focus on the health and happiness of the 16 campers of their cabin. They are there to guide campers in having a wonderful camp experience and role model maturity, fairness, and kindness. They live in-cabin with campers and are there to get them up and ready for the day and get them settled down at night. During the day, they spend time leading camp's activities as instructors or assisting in those activities. That is a general overview of the job, to read more , check out the "Thinking About A Summer Job" page.
Where do counselors stay?
All our cabins are air conditioned and have in cabin bathrooms. They are spacious and modern! You can read more about cabins here and check out pictures of them in our photo gallery . The counselor area is semi-private area that has 2 bunk beds allowing for 4 staff to sleep in a cabin. Staff have personal cabinets next to their beds, larger cabinets for clothing, and under bunk storage.
Where is Cub Creek located?
Cub Creek is located in Rolla, Missouri; Camp is about 8 miles from the center of the town. Rolla has a Walmart and many places to eat, and we're also not too far from other cities in Missouri where you can do some site-seeing.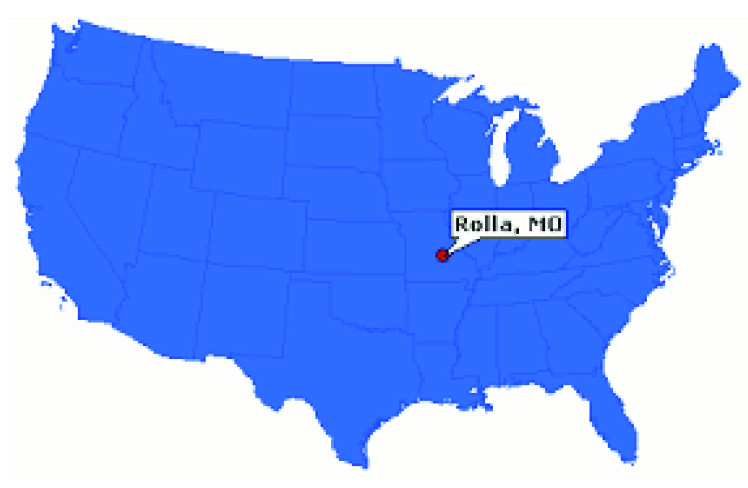 What are camp meals like?
You can read about camp meals here. You should expect to eat meals in the dining hall 3 times a day. If you have restrictions in your diet, we ask that you prepare to discuss that in your interview with us. If you are hired, for foods we cannot accomodate, you will be asked to provide your own supplementary items.
What are the nearby cities and attractions?
Camp is located 2 hours from St. Louis, Missouri- a popular American landmark! Here you can visit the St. Louis Arch, go to the zoo, watch a baseball game, and do so much more. If you like nature, there are many places to explore all around camp, and in surrounding towns. Other noteable cities in Missouri are Springfield (2 hours), Jefferson City (1 hour), Columbia (1.5 hours), and Kansas City (4 hours). Rolla is also in the middle of the United States, after camp if you will be traveling America, you can go in any direction!
What are my Transportation Options?
When you arrive to America, we will be picking you up from the airport! During your time at camp, staff without their own vehicle can utilize weekly scheduled outings into town or get a ride from other summer staff.
How much will I get paid?
Pay is individually negotiated with each applicant and written in the camp contracts. Additionally international staff have their compensation negotiated through their agency and their contracts.
Experiencing Summer Camp, Missouri and America
It's important to us that when you're not at camp, you're getting to experience some fun in America! Missouri has some wonderful things to offer! We have put a few of those fun summer additions here!