Thinking about working at a Summer Camp?
If you've never worked at summer camp before - first of all - YOU'RE MISSING OUT! But really, a summer job at a camp is quite possibly one of the most rewarding and enriching ways to spend your summer. Matter of fact, some CEOs of large companies state that when they see "summer camp" on an applicant's resume' they rise to the top of the applicant group!

Summer Camp is hard work, but really at the end of the day you are being paid to hang out with kids! You're camping out, making friendship bracelets, spending time with animals, having lip sync battles, dressing up as a dinosaur, dancing, laughing, and singing songs all summer long. C'mon. Where else can you do that?! Your first priority is your job - no doubt, but the people you are doing this job alongside will become some of your closest friends. The memories from "the night you guys stayed up until (insert hour here) AM decorating the cabin for space week" may just be the start of a speech at your camp friend's wedding.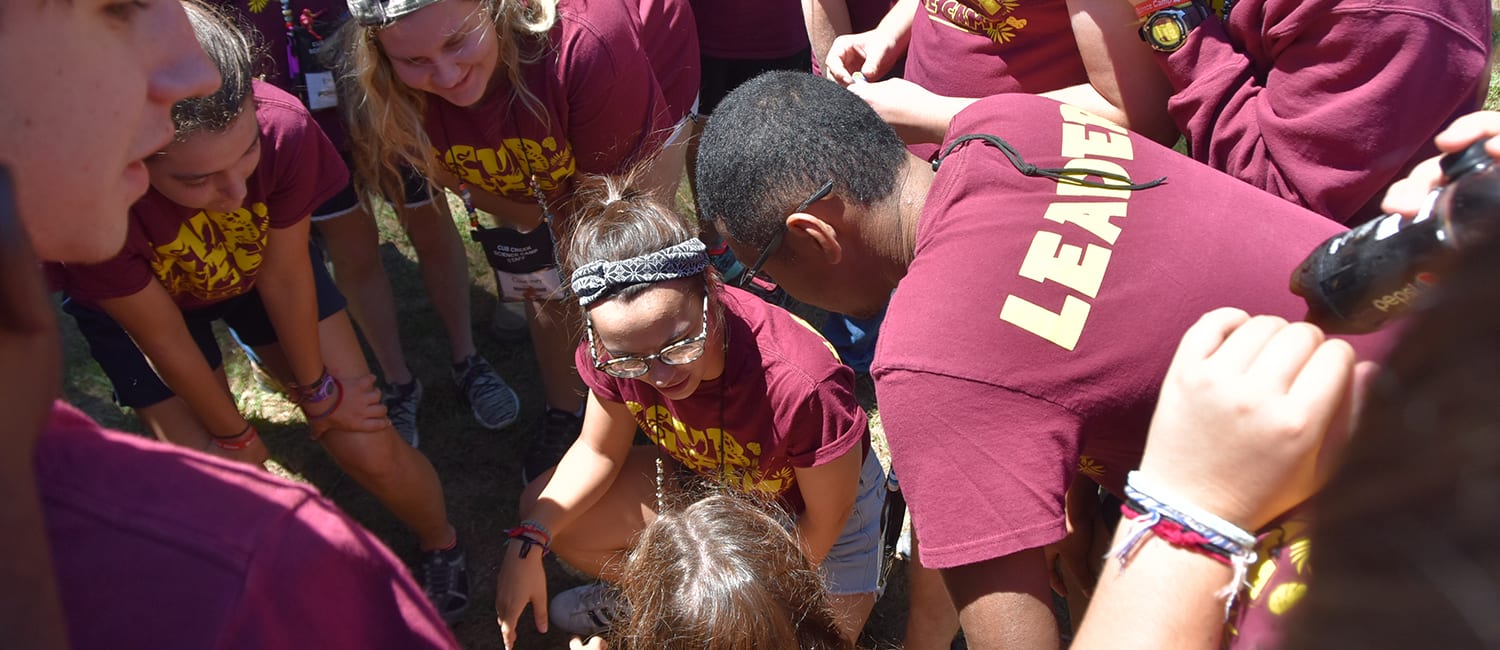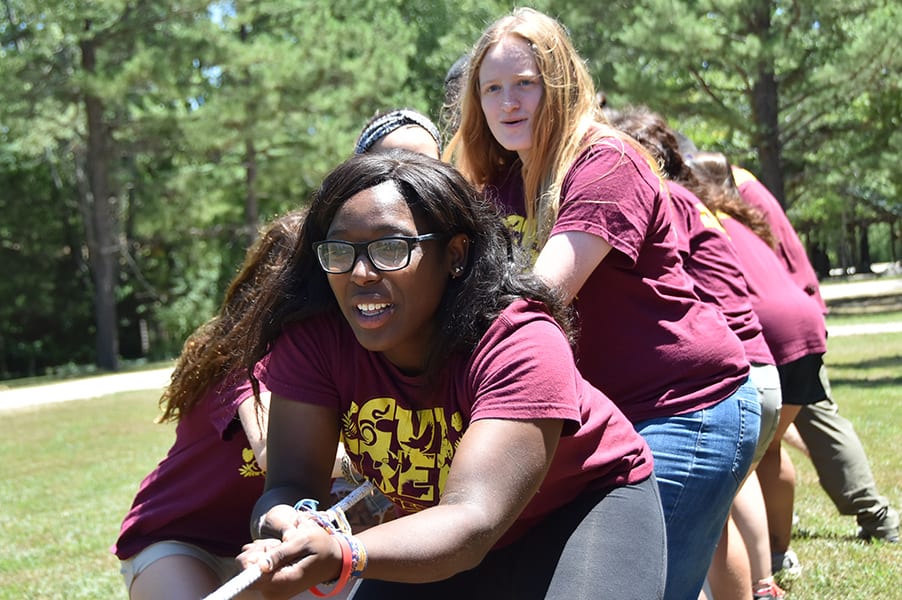 What do YOU get out of Camp?
The skills gained over a summer at camp will be incredible resume' builders. Employers are looking for communicators, problem solvers, and those who are able to work well with others. Those core 21st century skills, and many more, are ones that we build right here at camp. Teaching a camper how to make a friendship bracelet sharpens your ability to give clear directions and roasting marshmallows with 16 kids with only 4 skewers certainly creates great problem solving skills. And those wanting a future with animals, children, science, and recreation, your time at summer camp with us will boost your experience!

Aside from the skills, you get some awesome benefits from working at camp with us. All of our summer staff are paid employees. We also provide housing, meals, a $200 credit in our camp store. Read more about what you gain from camp HERE
Basic Qualifications
We are seeking to hire individuals described as enthusiastic, outgoing, positive, creative, bright, friendly, and caring. You should have good communication skills being able to effectively communicate ideas, thoughts, opinions, and instructions in a constructive manner; Be self-motivated having the ability to work on tasks and reach assigned goals; Be willing to learn new concepts and skills; Have the ability to work in a team being able to both give and take direction from others; And have a passion for science and animals and the childhoood development.

In order to work with us this summer, you must be able to work for the entirety of our summer season. For camp staff that is May 16th to August 8th, 2021.
If you are hoping to work at camp this summer, but not able to work a full summer, please still contact us! We may be able to work something out!

You must also be 18 years of age with a High School Diploma, or the equivalent.

You must be able to pass a background check.
Expectations
It takes a village to operate a summer camp. Introverts, Extroverts, Thinkers, Feelers, Early Risers, Night Owls - we appreciate all different qualities in all different people. But there is one thing everyone who is working for us this summer should understand: Camp Is For the Campers.
Our summer camp staff should:

Be selfless and care about others' needs. We and parents are trusting that campers' health, safety, and happiness is a priority while they are here at camp.


Show enthusiasm. Spoiler alert: you will be singing camp songs. Camp is fun and we expect that to be shown by our camp staff.


Adhere and uphold camp's code of conduct and rules. This seems obvious...but working at camp is a job. We expect our staff to take this responsibility seriously and that includes adhering to policies that we have put in place to keep you and our campers safe; respecting the facility and your co-workers; and being a role model to campers.


Walk/travel several miles each day. Looking for a reason to get in more steps? This is the place! We expect staff to be able to handle the activity that camp requires. While you won't be extreme hiking every day, you will be walking several miles a day around camp doing day-to-day things.


Enjoy and handle "being outside". You will be both in and outdoors while at camp, but many of the activities of camp are outside. You should be able to work with sun exposure, temperature fluctuations, bugs, campfires, etc.


Love and appreciate animals of all kinds. You're looking to work at an ANIMAL CAMP! While we do not expect staff to be comfortable with handling all of camp's animals , we expect staff to show interest and appreciation with all animal species. Animals are a huge part of our program, all team members should know that even if they aren't working with animals.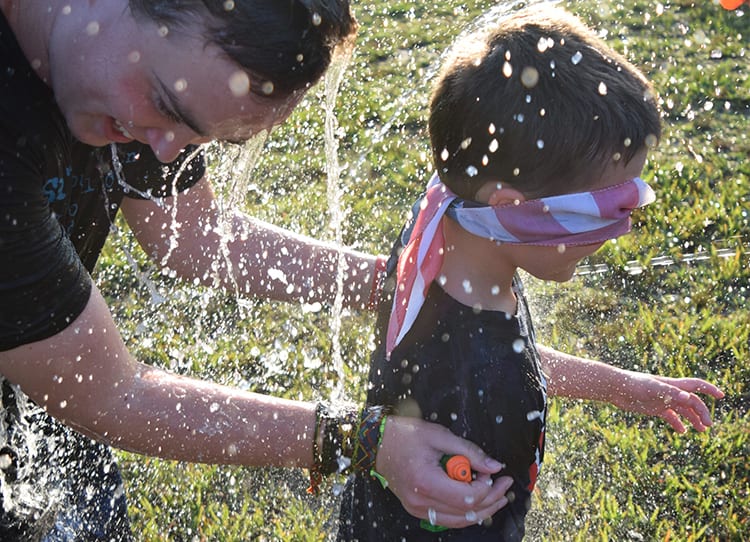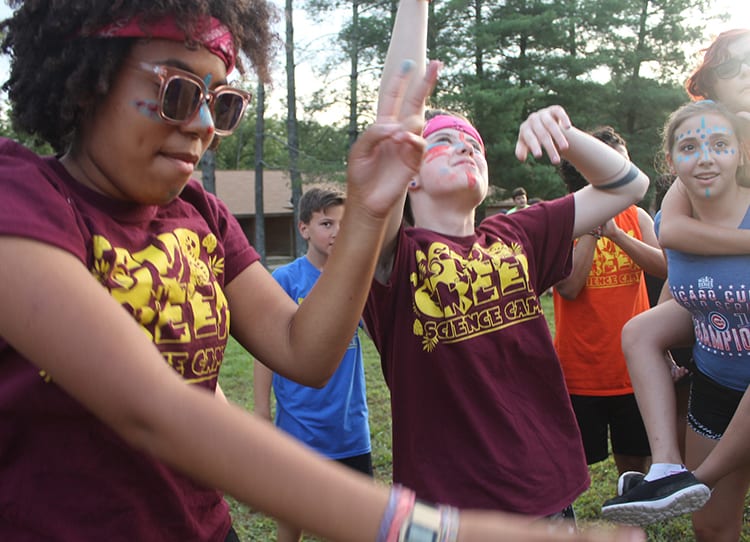 Cub Creek Job Specifics
Each camp has different "specifics" when working with them. Below are some of our specifics in relation to summer pay and time off.
Summer Pay
Money, money, money! Okay, you're not going to be rolling in dollar bills at the end of the summer - and if you're in it for the money you should reconsider.

We pay all our summer camp staff a starting base pay (salary) of $2,200 for a full summer with us. That seems like a lot to you - awesome! If it doesn't, think about it this way: You can work somewhere else (not have as much fun) and make twice as much. But at this "other place", you'll need to drive to work (gas $$), you'll have to grocery shop because you need to eat ( food $$), you'll be paying rent to live somewhere (rent $$), and when you get off work you'll obviously want to hang out with friends (entertainment $$). At the end of it all, you probably haven't made all that much more. At camp you're saving that money and you can actually use it when you go back to school in the Fall.

Depending on your years at camp, general camp experience, and add-on jobs, you can add to your summer salary! For example, we add additional $$$ to your base salary for any staff member who lives in a cabin as a counselor.It should be noted that all salaries are outlined in individual contracts and are also heavily based in a staff member honoring the terms in their contract.
Hours On & Time Off
Each member of the team has 2 scheduled days off a week. One day will be a day determined early in the summer season that coincides with your teaching schedule. The other day off is the Saturday after our all-staff meeting. You will also have two, one-hour breaks each day to relax and escape the heat and sounds of camp. Your time off is important to us. We want staff to have a chance to rest and recharge to help make the most of their experience at camp.

This is a good place to reiterate that if "how many hours you will be working" and "time off" ranks high on your list of important questions, perhaps camp is not for you. Remember that Camp is for Campers and that your main focus here is the health, safety, and happiness of the campers who spend their summer with us. That means that getting up with your campers to be on time for breakfast is a part of your job along with taking them to the Nurse if needed in the middle of the night, taking them to a fun early bird that starts at 7 am or a night dance party at 9 pm, or even staying up late to decorate the cabin for a campers birthday.
Available Positions


Below is our available summer positions. At Cub Creek, our summer camp counselors are also instructors, ropes course facilitators, lifeguards, and assist in areas around camp. When you apply, you will find a space in the application to mark areas of interest to you. Please know that positions like Animal Specialist, Photographers, ASIT Leaders, Village Leaders, etc are positions typically reserved and offered to returning staff members.
In- Cabin Positions

At Cub Creek, we want all of our camp staff team to have an understanding of "cabin life". No one understands that more than a counselor. That is why most staff in their first year of camp work as a cabin counselor. Cabin counselors are housed in one of our 15 camper cabins. Our cabins are divided into two villages (the southern village and the western village). Campers and staff are divided into cabin groups based on their biological sex. Cabin groups are further divided by age and cabin requests. Girlsare typically housed in the western village and boys in the southern village.
Cabin Counselor
Should work cooperatively with fellow Cabin Counselors to provide a healthy, safe and enjoyable camp environment and experience for all campers. Responsible for ensuring that your campers are on time to activities, that your cabin is kept clean, camp rules are followed, and that your campers are kept informed of the camp schedule and choices that are available. Should be prepared to provide guidance and emotional support for campers as needed. Responsible for completing weekly paperwork documenting camper interactions and camp involvement. Each counselor is also an Instructor for camp activities. To see our full list of possible instruction positions, see Activity Periods. Depending on skill level, a counselor/instructor can possibly teach up to 4 periods each day. All our instructors are trained at camp during staff training and require no previous experience. In-cabin position, anyone can apply.
ASIT Leader
Responsible for the health, safety and growth of camp's ASITs. The ASIT Leaders are the cabin counselors for our camp's leadership campers, the ASITs. They are responsible for the training, leading, and growth of our ASITs including: joining them during their required animal area morning rounds; scheduling them to help in camp activities in alignment with both their preferences and camp's needs; guiding them in assiting with their assigned "adopted cabins"; and modeling proper behavior as it aligns with camp's conduct expectations. They are also responsible for completing weekly paperwork documenting ASIT interactions, involvement, and success. ASIT Leaders are also Instructors for camp activities in conjunction with being supervisors for their ASITs while they assist in activities. ASIT Leaders work in a close team of 3 and ASITs have a schedule that works independently of the general campers' schedule. ASITs require counselors whose focus is aligned with the direction of their personal growth as an individual and leader. ASIT Leaders are not required to be returning staff, but it is preferred as this role requires an understanding of Cub Creek and the ASIT Program. Read more about the ASIT Program HERE . In-cabin position, returning staff preffered, but anyone can apply.
Additional Jobs for In-Cabin Positions
The following jobs are ways for cabin counselors/ASIT Leaders and yield an additional amount of money on their final camp salary. (Only available to in-cabin staff.)
Data Entry Coordinator
Responsible for ensuring that camp/camper paperwork is digitally uploaded each week. The Data Entry Coordinator for each cabin is tasked with making sure that all paperwork that is filled out for their cabin is typed and entered into our Camp Database. This person is not required to enter the data, but is responsible for assigning someone to enter the data and making sure it is done completely and properly.
Cabin Log Coordinator
Responsible for ensuring that their cabin's daily + weekly paperwork is completed and turned in on time. Each cabin has a packet of paperwork for the week that is filled out daily and turned in at the end of a session at our Saturday morning meeting. The Cabin Log Coordinator is responsible for making sure that their cabin's paperwork is filled out in completion and to the standard of camp as discussed in our camp staff training.
Weekend Cabin Preperation
Responsible for ensuring that your assigned cabin has completed all required cleaning after camper check-out. At the end of a session, all camp cabins are expected to be thoroughly cleaned and prepared for a new session of campers. This includes but is not limited to laundering the sheets and fitting them back to their beds when finished, mopping the cabin, cleaning bathrooms, taking out all trash, and making sure that all lost and found is removed from the cabin. The Weekend Cabin Prep should assume responsibility for making this all happens and does not begin time-off until they have been "checked-out" by a member of Leadership.
In or Out-of-Cabin Positions
The following positions are can be preformed as stand alone positions or along side the duties of a cabin counselor. These positions are not "Instructors" and can be filled by first year staff or returning staff.
Office Assistant
Assists with the answering of phones, data entry and errands as needed. The Office Assistant should be confident in communicating with our camp parents and in answering questions about camp. This position should be familiar and proficient in programs like Microsoft Word and Excel and should be open to and capable of learning other programs that may be required to assist in the camp office. An Office Assistant should have organizational skills, be able to retain information, be able to take constructive feedback, and be a quick and willing learner. This position requires a lot interaction with people both in-person and over the phone/email- a positive and helpful disposition is highly preferred. While previous knowledge of our camp is helpful, it is not required. Anyone may apply.
Photographer
Responsible for taking photos for all camp activities. Our photography team is responsible for taking pictures, posting them to a secure site for parents to view daily, and at the end of the week, making a photo flash drive that contains all the pictures taken. Photographers also write a daily newsletter for parents and assist our Creative Director in marketing adoptable animals. At Cub Creek, extensive knowledge of how to use a camera (DSLR) or owning a personal camera is not required. However, photographers need to be open to constructive criticism and feedback and should be prepared to learn basic techiniques.They should also be comfortable taking pictures of people perdominantly in candid situations and posed when needed. Returning staff preferred, but anyone may apply.
Kitchen / Support Staff
Will assist with the preparation, serving and clean up of all meals served at Cub Creek. All staff working in the kitchen will assist with the preperation of camp meals and monitoring the buffets lines during meal times. Kitchen staff are focused on maintaining the cleanliness standards throughout the dining hall and kitchen, while preparing good tasting meals, on time, with as little food waste as possible. Kitchen staff assist with the unloading and stocking of incoming food deliveries and should be able to lift 40 lbs and stand for hours at a time. Kitchen staff should be able to work in a team and be open to learning. This position can be combined with our support staff and even a cabin counselor role in order to provide more exposure to camp life, learning and teaching opportunities. Anyone may apply.
Returning Staff Positions
The following positions are reserved for returning Cub Creek staff. These positions sometimes require an extensive knowledge of our camp and are based on previous experience working as a Cub Creek cabin counselor. Most of these positions are also considered to be a "Leadership" position requiring you to lead others in specific tasks. In the event that any of these positions are left unfilled by returning staff, they may be offered to first year camp staff.
Village Leader
Responsible for the supervision and support of Cabin Counselors. One of their main focuses is to guide counselors in their daily job to make a successful summer camp experience for their campers. Village Leaders should be able to provide positive constructive feedback, have skills in problem solving, know and follow rules of camp and be able to enforce them, and be able to manage their own schedule. Village leaders are also the main schedulers here at camp; they organize the camp activity schedule including assigning counselors to their weekly activities and signing campers up for their camp classes. Out-of-cabin position, returning staff can apply.
Lead Animal Specialist
Provides supervision and protective oversight for all animals, animal instructors, animal specialist, and animal realted programs offered at Cub Creek. The Lead in the Animal Area should be able to speak on the health and well-being of all of the Ranch's animals at all times. This includes staying informed about all or any animal births or injuries, changes in dietary needs, changes in mood/behavior, etc. This position requires an attention to detail that allows them to notice minor or significant changes in the state of any of camp's 300 animals. The Lead Animal Specialist supervises all Animal Specialists and over sees the ASITs and ASIT Leaders in all animal related programs. Out-of-cabin position, returning staff may apply.
Animal Specialist
Responsible with the care of all animals at Bear River Ranch. Animal Specialists ensure strict adherence to the animal care standards of Cub Creek for the specific animal area in which they are assigned. This includes, but is not limited to, the proper feeding of the animals in your care, meeting the needs of safety procedures in habitat, care, and handling, and overseeing interactions between animals and staff/campers. This role also is tasked with making sure that all activities taught within their assigned animal area are taught according to Cub Creek's standards. Out-of-cabin position, returning staff may apply.
Lead Transporation
Coordinates the proper transporting of all Cub Creek campers to and from the St Louis airport. This postition requires someone with time management skills, the ability to problem solve, and experience with delegating tasks. The Lead Transportation is responsible for assigning and organizing staff in coordination with the pick up/drop off information submitted for campers' flights. The Lead will also train their transportation staff to ensure that we have an adequately trained team to assist as chaperones to and from the airport. Out-of-cabin position, job is not "full-time" and is done in addition to another position, returning staff may apply.
Lead Photographer
Responsible for heading the camp photo team. The Lead Photographer should be able to give constructive feedback as it relates to their team's photos and should also hold the team accountable on their work ethic, responsibilites, and goals. The Lead takes pictures along with their team and trains photographers, supervises team, and delegates and/or assists with all photographer tasks. The Lead Photographer is not required to own a personal camera, however they should have experience with a DSLR camera. This position requires the ability to work in a team, complete tasks in an efficient yet quick manner, have comfort with taking pitcures of people, and flexibility. The ability to recall names and faces is a bonus. Out-of-cabin position, returning staff may apply.
First Time Camper Coordinator
Oversees the camp experience for all first time campers at Cub Creek. The First Time Camper Coordinator is responsible for meeting all new/first time campers of Cub Creek and be aware of their individual camp experience. The FTCC greets families during check-in and will continue to serve as the contact person for all first time parents if they have questions or concerns during their child's time at camp. The First Time Camper Coordinator should have patience and an ability to handle homesickness, have proper time management, and stay organized. Out-of-cabin position, returning staff may apply.
Wellness Coordinator
Responsible for mediating or intervening for campers experiencing behavioral/emotional struggles by providing campers support, solutions, and comfort. The Wellness Coordinator assists counselors in appropriately intergrating campers with behavioral/emotional struggles into daily camp life and activities. They work collaboratively with other members of the leadership team to determine best practices and integration plans. The Wellness Coordinator is tasked with contacting parents with updates and concerns as needed. Out-of-cabin position, returning staff may apply.
Activities Coordinator
Ensures that all camp activities (except adventure) are being taught to camp's standards. The Activities Coordinator assists with the training of activity staff to set the standard for programming. This position supervises instructions while teaching, makes sure supplies and the facility are being maintained properly, and assists in the scheduling of instructors to activities. This position also conducts and documents periodic inspections of all activity areas as well as approving all program supply requests. Assists with the training of activity staff and is aware of instructors' skill-levels.Out-of-cabin position, returning staff may apply.
Adventure Programs Coordinator
Ensures that all adventure activities are being taught to camp's standards. The Adventure Programs Coordinator assists with the training and certifying of activity staff to set the standard for adventure programming. The areas relating to this position include: Archery, Riflery, Caving, Survival Skills, Pool Activities and Ropes Course. This position supervises instructors while teaching, makes sure supplies and the facility are being maintained properly, and assists with the scheduling of instructors to activities. This position conducts and documents periodic inspections of all adventure activity areas as well as approves all program supply requests. Assists with the training of activity staff and is aware of each individual instructor's skill-level. ** This position requires a Lifeguard Certification (current or certfied at camp) and certfication on Ropes Course (at camp). Out-of-cabin position, returning staff may apply.
Camp Store Manager
Responsible for the supervision of the camp store, gift shop, and all program supply purchasing/inventory. The Camp Store Manager trains, schedules, oversees all store clerks. They manage the day-to-day operations of the two camp stores at Cub Creek including but not limited to inventory tracking, front end and back end product stocking, store cleanliness, loss management, and daily/weekly reports. The Manager is responsible for the creation of camper name tags and making sure all camper accounts are in good standing. Experience in retail is preferred but not required; This position requires someone with organizational skills, understanding of inventory and accounting, and should be able to delegate tasks. Out-of-cabin position, returning staff may apply.
Additional Jobs for Cub Creek Staff
First year or Returning Staff may add any of these jobs to their main camp position. All of the following positions are in addition to your contracted position here at camp and are not 'stand-alone' jobs. Each of these tasks adds money to your contracted salary while also giving you more responsibilities in various areas of camp. *Conditions for each job will be outlined prior to accepting these positions.
Health Lodge Assistant
Aids the Nurse with the health and safety of our campers. The Health Lodge Assistant assists the Camp Nurse and/or the Health Lodge Lead in their daily tasks which include administration of camp medication to campers, logging the intake of campers for 'treatment', and being available for immediate help in cases of injuries. The Health Lodge Assistant will never be asked and should never make diagnoses and instead refers to the guidance of the Health Lodge Lead or Camp Nurse for all injuries or illness. In addition to, In-cabin or Out-of-cabin position, anyone may apply.
Camp Store Clerk
Assigned with assising in the camp store or gift shop to stock, clean and perform customer sales. A Clerk will be trained by the Camp Store Manager to understand the basics of inventory and keeping track of sales in the store. Clerks should have attention to detail and care about the integrity of the products in the store and stock room. In additon to an In-cabin or Out-of-cabin position, anyone may apply.
Lifeguard
Responsible for the supervision of all persons at the swimming pool. While on-duty, A Lifeguard should work in strict accordance of Cub Creek's pool and swimming rules and policies. All camp lifeguards are trained and certified here at camp during Staff Training (unless holding a current certification). Lifeguards should be able to follow and uphold the rules of the pool, remain focused on their task, and be able to work/respond in all weather conditions. No prior exprience as a lifeguard is required, but strong swimming skills and comfort in the water is. In addition to an In-cabin or Out-of-cabin position, anyone may apply.
Recycling Coordinator
Responsible for the organization and implementation of our recycling program. The Recycling Coordinator will clean and sort all recyclables collected here at camp. They are responsible with maintaining an organized system for recycled items and delivering clean items to the local recycling center every Saturday afternoon. In addition to an In-cabin or Out-of-cabin position, anyone may apply.
Transporation Driver
Safely drives for campers traveling between camp and the airport. All Drivers are trained on the standards of camp's transportation expectations including safe operation of our vehicles, outling practical driving practices, and our camp's standard transportation pick-up/drop-off procedures. The Transportation team should have capable and responsible drivers that get campers to and from the St. Louis airport in conjuction with camp's schedules. A driver should have a clean driving record and will have a "class E" license( obtained with us). When at the airport, they are also responsible for helping campers check in to their flight, guide unaccompanied minors to their gate, help gather or check luggage, and/or help load luggage into a camp vehicle. In addition to an In-cabin or Out-of-cabin position, anyone may apply.
Transporation Assistant
Provides assistance as a chaperone for campers who are traveling between camp and the airport. A Transportation Assistant will ride as a passenger along with a driver and will be responsible for helping campers check in to their flight, guide unaccompanied minors to their gate, help gather or check luggage, and/or help load luggage into a camp vehicle. The assistant is expected to aid the driver to ensure the safety of all passengers by maintaining a safe traveling environment, operating radio/making calls, and communicating with camp's main office. No driver's license is required for this position. In addition to an In-cabin or Out-of-cabin position, anyone may apply.
Specialized Positons
The following positions are specialized and are only open to qualified applicants.
Camp Nurse
Provides the proper assessment and treatment of illness or injury of campers and staff following our Doctor's standard orders. The Cub Creek Nurse is responsible for the proper medication distribution to campers/staff during our scheduled medication times and according to the policies of camp. The Nurse provides preventative practices to prevent potential illness and injury of our campers and staff. Daily they should review the MAR and Log Books to ensure medication passes, health lodge visits, and treatments are following Cub Creek's standards. The Nurse will communicate and work closely with camp's Director to keep the team updated on the wellness of camp and our campers. If needed, the Nurse will refer campers to our preferred clinic and Doctor in town. Only eligible applicants may apply.
Health Lodge Lead
Provides the proper assessment and treatment of illness or injury of campers and staff following our Doctor's standard orders. The Health Lodge leads works in conjunction with, but at the direction of our Camp Nurse. This position is expected and required to work any day/time that the Nurse is "off-duty"; In that case, this position will stay in communication with camp's Director to ensure that any out-of-routine decisions are made with her knowledge and consent. The Health Lodge Lead is responsible in assisting with routine medication passes, being on call in the health lodge for major/minor injuries, and documenting all Health Lodge visits. Our Health Lodge Lead must be certified as an Emergency First Responder, EMT or LPN. Only eligible applicants may apply.
Kitchen Manager
Responsible for providing meals for all camp participants and maintaining the camp dining hall. The Kitchen Manager is responsible for training their kithcen staff in the preparation of our camp meals, safe practices while working in a kitchen, and proper food handling. The Manager will work at the direction of camp's Director and works in accordance with camp's schedule and standards. The Kitchen Manager is expected to work/supervise all meals being served to campers during a session to ensure proper preparation, serving and clean up of all meals served at Cub Creek. This position should ensure the cleanliness standards are maintained throughout the dining hall and kitchen and that all food supplies are properly stored and labeled according to camp's standards. Only eligible applicants may apply.
This Can Be Your Summer Internship!

Internships are often a requirement for a student to graduate from college. We are happy to work with our camp staff to aid them in meeting an internship requirement if possible. We offer a great deal of variety for majors in science, education, parks and recreation, business administration and more. To read more about making a summer with us an internship, click Here.
---
Why Spend A Summer Working At Camp?
In this day when college students lobby for internships and field experience, the professional values of working at camp sometimes take a back seat to other possible summer jobs. In truth, people who have never worked at camp may not understand the 21st century skills acquired at camp. They struggle to see the tremendous impact and learning opportunity that a camp job provides. This section outlines the professional and personal gains of working at a summer camp.
Resume & Work Experience
Beneath all the fun that we have at camp, at the end of the day our staff work hard to keep camp running. From counselors to camp management, each person at camp is critical to the opertation of a smooth and safe summer. At camp, you have to show up on-time, fill out required paperwork, manage your time off, communicate information to your co-workers, and be responsible for your own tasks- just like any other job.

Our cabin staff are Camp Counselors. However at Cub Creek, we help our summer staff better articulate their job and the specific skills gained from their time at camp. For some, Camp Counselor says it all! But for others, Chemistry or Ceramics Instructor, Teen Counselor, Outdoor Educator, or Ropes Course Facilitator is a better description of the job skills they wish to highlight.

Here are some ideas of what you could use to further describe your summer with us:
Working with Children

Camp Counselor
Teen Counselor
Elementary Education
Child Care Specialist
Leadership Development
Teaching

Outdoor Educator
STEM Instructor
Pottery Instructor
Photography Instructor
Riflery/Archery Coach
Ropes Course Facilitator
Working With Animals

Animal Care Instructor
Animal Care Specialist
Veterinarian Medicine Instructor
Animal Science Instructor
Wildlife Biologist
Herpetologist
Various Job Titles

Photographer
Videographer
Ceramicist
Field Biologist
Survivor Skills Specialist
Limnologist
Skill Building
Studies indicate a strong correlation between four key 21st century skills and an individual's success in the workforce. These four "Most Important Skills" are: Professionalism, Teamwork, Oral Communication, and Ethical/Social Responsibility. All of these are taught, learned, and practiced while working at summer camp. Hiring managers across all different industries are looking for applicants with these skills and more.

Professionalism and oral communication are common practices at camp, especially when you have just a few minutes to meet and reassure an individual (parent) that they are wise for entrusting you with their most valuable possession (their child). Teamwork doesn't need much explaination as the entire summer itself is one large team effort. Ethics and social responsibility are a natural part of living in an environment with others where especting others and resolving conflict are a matter of social necessity.

Camp fosters many more important 21st century skills, like responsibility, patience, and flexibility. Camp counselors are responsible for the health and happiness of their campers, adapt to the needs and teaching styles of various campers, and gain tolerance for situations that may be new or unfamiliar to them.

Simply put, camp counselors really have an incredible edge in the professional world.
We are focused on growing your experience in:
Collaboration and Teamwork
Adaptability & Flexibility
Problem Solving
Communication Skills
Independent Thinking
Public Speaking
Animal Husbandry/Care