Animals are our Specialty,
You call us a Zoo Camp or an Animal Camp!
We prefer to call ourselves an Animal Camp as so many of our campers come to camp for their love of animals! Our campers return year after year because of camp and the friends they make, but they love to see our animals and even come back to see specific ones! We have over one hundred different kinds of animals at camp and offer MANY animal related activities. More, in fact, than any other residential summer camp, anywhere. This is why we feel it is right to call ourselves the Ultimate Animal Camp!

There aren't a lot of animal summer camps out there to compare us to, and none with as an extensive program as we have. As far as we know, we are the only residential summer camp that can make this claim. Despite having a zoo, we prefer the title "Animal Camp" over "Zoo Camp". Unlike your typical zoo or zoo camp, our campers are able to do so much more than just see animals. We offer hands-on animal encounters, with opportunities to get up close, feed, touch and hold more animals than anyplace else. Campers can feed lemurs, talk with a parrot, walk with an alpaca, hold a 7 foot snake, prickly hedgehog or even a baby wallaby! Whatever you call us, animals are definitely our specialty. At Cub Creek Science Camp our animals become a bridge for teaching and growing many skills in our campers, including compassion, responsibility, self esteem and problem solving. Our goal is that the knowledge, understanding and compassion learned for the animals at camp, will eventually lead our campers to become adults with a desire to take care of each other, the planet and all its inhabitants.
Classes
Courses
Look below for a list of our animal related courses and classes.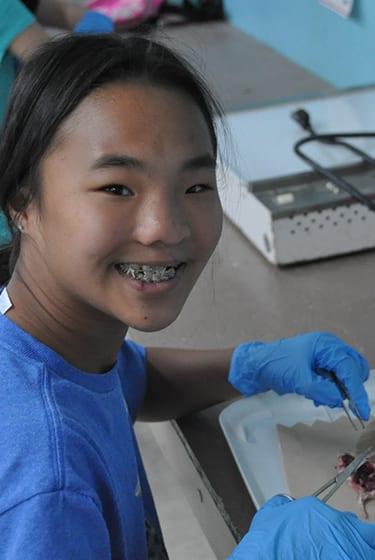 More commonly called, Junior Vet, this week long activity was designed especially for kids who think they might want to become a Veterinarian. Through hands-on activities and with the assistance of a passionate instructor, campers learn real Veterinary skills! Campers who have taken Jr. Vet are able to take our Advanced Jr. Vet program.
Basic Animal Examinations - Campers learn the signs for an animals' ideal health. They will monitor a camp animal's breathing and heart rate with a stethoscope; check their eyes, ears and mouth, and give them a physical examination.
Reading X-Rays - We have an X-ray illuminator and sample X-rays that campers can observe right here at camp! Campers will be challenged to identify bones and abnormalities that may be seen under X-ray.
Identifying Internal Parasites - Part of being a vet is looking at "fecal" matter. Campers learn and examine how to make "fecal floats" under the microscope. They'll learn what they are looking for and how a fecal float can help save an animal's life!
Learning Suturing Techniques - Using a willing banana, campers will practice the tricky art of suturing. Suturing requires practice and has many different applicants and stitches according to where they will be placed.
Giving Injections - Using dyed water and injecting it into oranges, campers learn and practice how to draw and administer medications in this class. Campers will learn how, where and why injections are given to animals under a Veterinarian's care.
Watch a Live Surgery - Our Veterinarian comes to camp one day each week and performs animal examinations and surgeries right here at camp! Typical surgeries are spays and neuters performed on dogs and cats from our local animal shelter. However, campers have been able to watch some pretty amazing things over the years! Alpacas, zebus, ducks, and more have visited our surgery room for a procedure allowing campers to observe and ask questions.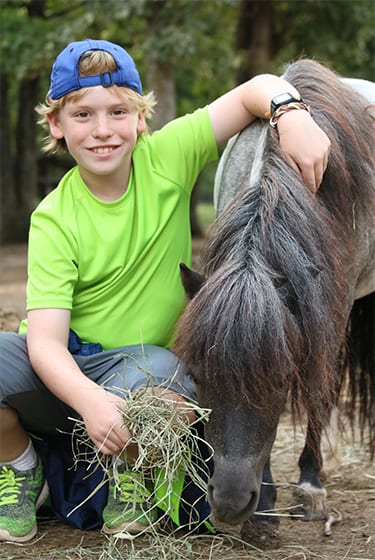 As camp's most popular activity, Adopt an Animal is what camp is all about! For a week, campers take a dive into responsible pet ownership while learning about the animals they are taking care of. Each of camp's animals is adoptable, as these campers are actually helping our Animal Team take care of camp's 300 animals for a whole week!
Introductions - Many campers come to camp knowing which animal they would like to adopt and some are deciding when they get here! The first day is spent getting to know all the animals in a camper's chosen area. Campers also learn the basics of how we take care of the animals at camp and how to handle/interact with their animal.
Feeding and Cleaning - Each animal has a special diet at camp. Campers are learning what their animal eats at camp to help match what they would be eating in the wild. Campers are also now assuming the responsibility of maintaining the cleanliness of their animal's enclosure.
Health and Care - Campers learn about some of the preventative measures we take with our animals to make sure they stay healthy. This can include simple procedures like teeth cleaning for a dog/ nail trimming for a bird to larger surgeries like spays or neuters. We talk to campers about different animals' needs and the costs associated with maintaining their health.
Animal Enrichment - Animals in captivity need ways to prevent boredom and encourage play. Campers visit our Enrichment Room and make toys and treats for their adopted animals. We love to see campers engaging with their animal and making complex enrichment for them.
Sharing and Saying Goodbye - We take this day for campers to share their knowledge, allowing everyone to learn from one another. It is our goal, that campers know about their specific animal they adopted from camp and learn about the animal species'!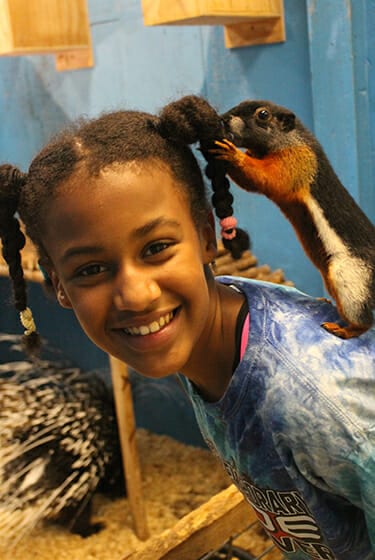 Amazing Animals
Get up close and personal with every animal at the Ranch! This course takes you through all the animal areas of camp to gives you encounters while learning! Understand what makes birds different than mammals and reptiles; Compare and contrast the different species of foxes, porcupines, and parrots; And learn why large ears, feet, and tails would matter for some animals out in the wild.
Mammals - At camp, we have more mammals than any other kind of animal! There are so many cool and interesting things that can be learned about all the mammals we have at camp! From hoofstock to canines, campers will be learning and interacting with camp's largest and smallest creatures! Because there are so many mammals at camp, there is SO much to learn, there are two mammal days! On one of the mammal days, campers will visit Lemur Island. This enclosure is home to our largest colony of lemurs where campers can get up close and feed them!
Birds - Birds are one of the Earth's most fascinating creatures! At camp, we have 30 different species of birds! Campers will learn why a parrot's foot is different than a chicken's and why a bird's beak is the ultimate tool for survival!
Reptiles - Reptiles are very popular at Cub Creek. During this class, campers will learn about the cold blooded animals and take them outside for sunbathing! Out Black Throated Monitor even likes to be taken for walks!
Invertebrates - Bugs are all the rage on this day! Our Creepy Crawly room is where campers will spend most their time learning about spiders, scorpion, millipedes, and more. But there is even more to see outside! Campers will look for dragonflies and walking sticks! They're easy to find..if you know where to look!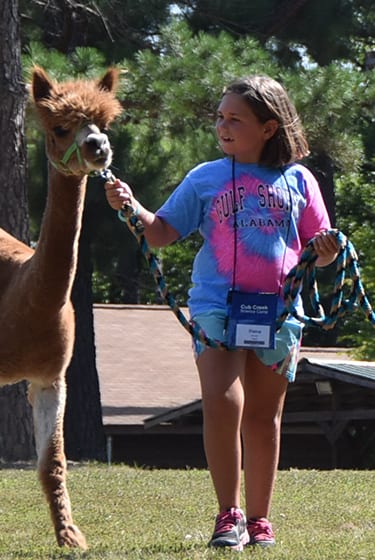 Animal Safari
At other camps they take hikes, here we go on an Animal Safari! Our campers explore the wonders of nature while giving a camp animal some great enrichment. Campers chose to change it up daily by taking an alpaca, miniature horse or even one of the dogs along with them as they explore the trails around camp. Animal Safari combines spending time with our animals, nature, and seeing some animals in the wild!
Bluebird Trail - This is the longest trail at camp and is a great trail for an adventurous group. This trail has terrain diversity, and best explored with an animal who can hold a pack like and alpaca, which can best withstand the walk AND can carry extra water for the group!
Hummingbird Trail - This is a popularly walked trail around camp that circumvents the exterior of the Southern Village. We call this more commonly the "Activity Loop". This shorter trail is best for viewing/picking Blackberries and for an animal that would do best on a shorter walk.
Cardinal Trail - This trail only has inlets and outlets through Bluebird Trail. But campers are in for a treat when they see a MASSIVE catapult that was constructed on top of a hill along the way! A dog would love this hike to expend energy and get some great exercise.
Goldfinch Trail - Goldfinch trail is our least traveled hiking location and therefore has the best unaffected natural views. Our alpacas love this walk to graze on tall grasses!
Hike to the Glade - Our glade is a wonderful sight to see! With wildflowers, fruit bushes, and an INCREDIBLE view campers really see the diversity of Missouri's natural landscape!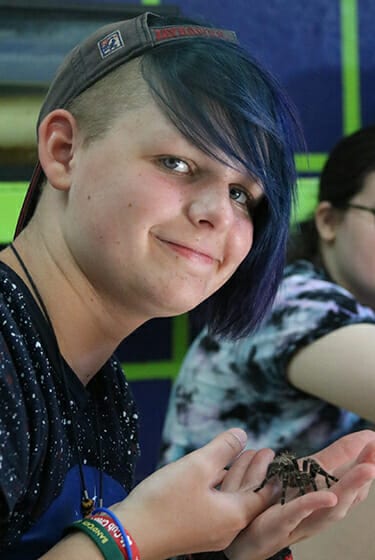 Additional Animal Classes
At Cub Creek, we want to offer as many animal activities as possible for campers. This way, campers who come to our camp for the animals can have even more opportunity to spend time learning with them. Or if a camper prefers other courses, they can spend a few of their class periods with animals. Below you will find even more Animal Classes offered at camp.
Lemur Island - Our Ringtail Lemurs are one of camp's most iconic animals. Campers have incredible encounters with them as they feed and watch them bounce from person to person. Living with the Lemurs are Patagonian Cavies! These guys are rodents related to Guinea Pigs who love to follow you and sit next to you!
Creepy Crawly Critters / Entomology - Our Creepy Crawly Critter Room is home to a variety of snakes, insects, spiders, frogs, and more! This class gives campers the opportunity to get up close and even hold animals that they may have never paid much attention to in the past. Do you have apprehension holding creepy crawly critters? This class is also a chance to face your fears and earn a bravery bead!
Explore the Jungle - Spend an hour hanging out with a variety of animals! Lemurs, parrots, chinchillas, and sugar gliders all live in this area.
Explore Cats and Dogs - Socialize with the dogs and cats we've taken in the from the shelter. Take them for walks and teach them commands to help them get ready for their new home!
Explore the Habitats - With an incredible range of animals, the Habitats is home to our Kookaburra, Black Throated Monitor, and an Armadillo!
Explore the Small Animals - These cuddly creatures love to be held! Hold a chinchilla, rabbit, skinny pig and more!
Explore the Reptile Room - With snakes and lizards, our Reptile Room is a place to get up close and personal with all kinds of scaly creatures!
Explore Llama Land - Occupied now by just Alpacas and Pigs, Llama Land is a great place for campers who love these funny creatures. Our alpacas love to eat grain from your hands and the pigs LOVE to eat any treat you bring them!
Explore the Nursery - Always changing, the Nursery is home to our young animals and animals who may need more attention. If we have babies on a bottle, THIS would be the place to feed them! In the summer, you're likely to find ducks, sheep, goats, pigs, and chickens in this area of camp.
Explore the Back Pastures - This is where you can find Malachi the Camel! He hangs out in the Back Pastures with the goats, sheep, miniature horses and donkeys, emus, and zebus. They are all separated into families that they live well within these 4 separate pastures. You can feed grain, hay, and fresh greens to these animals!
Did you think that was it? We have plenty of other classes and courses offered in Science, Adventure, Arts & Crafts, Nature and even more! Click the button to your right to explore more.