Policies, Paperwork, and Payments
Here you will find information on camp paperwork and payments and the policies regarding them. Use the links below to navigate the sections of this page: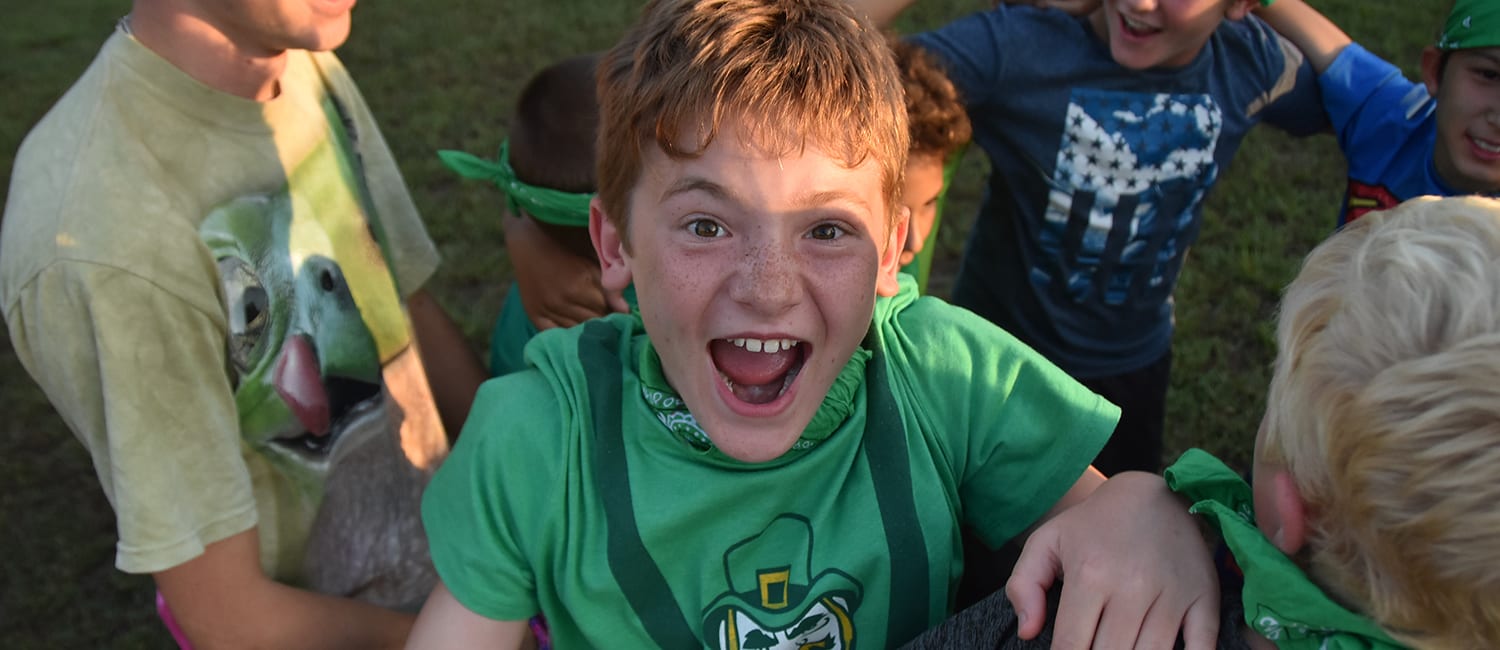 Camp Paperwork at Campwise


At Cub Creek Science Camp, our paperwork includes information about your camper including their history and medical information, information regarding how you intend for them to arrive to camp (driving or flying), and even includes unique questionaires that help us to get your camper before they arrive at camp. Paperwork at camp is completely digital! Our camp registration and camper profile database is Campwise. Every parent has a unique parent dashboard which gives them access to their camper's camp registration information and records. Campers are required to have a complete camper profile and medical history on file prior to attendance. Unless you are a late registration, all paperwork must be complete by April 1st. Families who register late (after March 5) are given up to 30 days to complete paperwork. As always, you are welcome to call or email us with any issues you may experience with your parent dashboard.

Paperwork includes information regarding Medications and Transportation (Flights to Camp). Both of these topics require more information and both have policies/procedures associated with them. Please keep reading to know more.
---
Preparing Medications for Camp
All medications that your child should take while at camp, must be packaged into single dose medication packs. At Cub Creek medications that are taken on a scheduled basis to maintain or improve health, including vitamins, supplements and over-the-counter must be packaged.

In order to ensure your camper receives the correct medication at the correct times, we are asking you to pre-package all your camper's medications according to the guidelines outlined below. The easiest way to do this, is to go through one of the pharmacies that provide free medication packet services. Some of these pharmacies include CVS, Sinks and Amazon. But, if you prefer, you are welcome to package their own medications into individual medication packs or small envelopes.

Here are some helpful links

For packing medications on your own, you can purchase packets for medication via the following links on Amazon:
Option 1 or,
Option 2

For medication packaging services, check these out:
CVS Pharmacy
PillPack.com
Instructions for preparing medication(s) for camp
Labeling Medication Packets
All medication packets must be labeled* with the following information:
1. Child's name
2. Date, day and time for distribution
3. Medication names
4. Dosages

*Some parents find it helpful to create and print labels in place of hand writing each medication packet. We will accept printed or written.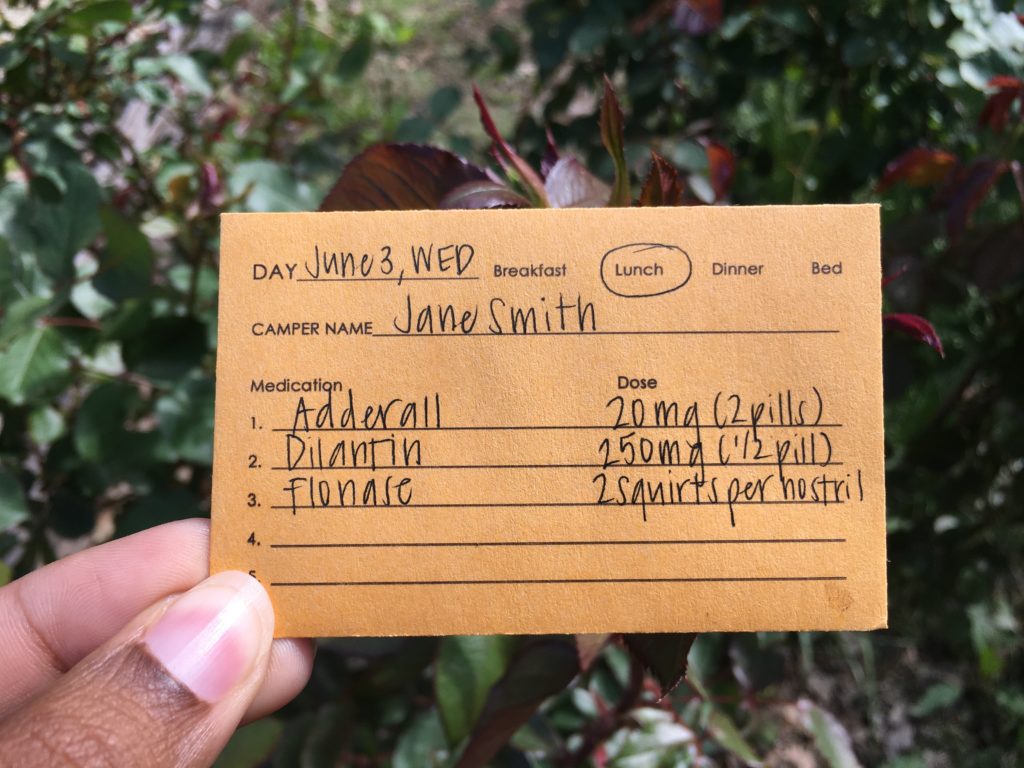 Medications should be packaged according to the day/date and time they are given. Multiple medications may go in one pack if they are all given at the same time. Different times and days must be separated into their own packets. We have four medication times: Breakfast at 8:15 am, Lunch at 1:15 pm, Dinner at 5:30 pm and Bedtime at 8:30 pm. No deviations are permitted without prior approval. Packets should be labeled with "Breakfast", "Lunch", "Dinner", or "Bed" to signify what time they are given.

We also request you send one packet marked EXTRA with two extra doses of each medication.

Special Packing
Liquid medication, inhalers, or nasal sprays must also be listed on the medication pack that corresponds with the time that the medication should be administered. They should be sent to camp in a zip-lock bag with the camper's name marked on the bag and on each medication.

Additional Notes
No medications may be kept in the cabins except eye drops, ear drops, topical creams, and/or emergency medicines (requires Nurse approval). Any camper with a rescue inhaler or Epi-pen should bring a spare inhaler/injector to camp.

Medication packets should be completed and brought to camp with your child. Medications are brought to the Nurse's station during Check-In, so make sure to remove medication from your camper's luggage and bring it with you along the check-in process. At the end of your camper's session, all leftover medications will be returned and will be put in your camper's front or side pocket of their suitcase or bag.

The Medication and Health form that you completed along with your camper's profile in CampWise, should list all medications your child will be taking during his or her stay at camp, and should be signed by the camper's physician. Our nurse can NOT dispense medications without a physician's signature. If you have any questions or need assistance in this process please call our office at 573-458-2125.

---
Transportation: Flying to/from Camp
Cub Creek Science Camp offers chaperoned transportation service to and from the St. Louis International Airport. We ask that paperwork regarding airport information be submitted to our office by April 1st along with all other paperwork.


Fees
Our standard transportation fees to camp from the main terminal of the St. Louis International Airport starts at $85. Transportation fees are based on time of arrival and departure. Transportation Fees are non-transferable and non-refundable. The fee for transportation outside of the above times or on days other than the first day of the session is $315. All flight information should be submitted to our office by April 1st.

---
Payments
The following outlines Cub Creek Inc.'s policies as it pertains to all payments made towards a camper's tuition and our policies regarding cancellations and refunds.
Payment Deadlines
Camp fee balances are due on or before April 1st for everyone who registers before March 15th. For registrations after March 5th the balance is due at least 30 days prior to the beginning of the camp session and within 30 days of registration.

Our goal is to work with every family to make camp possible for their child. If an extension is needed, please make your request at least two weeks in advance of April 1st or at the time of registration for registrations After March 15. To avoid cancellation or late fees, let us know if you are not able to make your payment on time, so that we can work out an interest free payment plan.


Deposits
A $100 per week non-refundable, non-transferable deposit is required to secure a Cub Creek camper's registration. This deposit is applied to the total camp tuition. For ASITs (teen leadership program) and Animal Camp Jamaica (teen travel program), non-refundable, non-transferable deposits are $250 per week and are also applied to the total camp tuition.

Should a camper switch session dates with at least two weeks notice (two weeks from the start of the session), deposits will apply to a new session. If a camper session is switched with less than 2 weeks prior to the start date, a $50 charge is applied and deposits are non-transferable to the new session. Deposits apply only to the camper for which they are made and may not be transferred or added to another camper's tuition. Under no circumstances will the deposit be transferred or refunded should a camper reduce the number of weeks attending.


Late Fees
If payment is not received on time (and an extension has not been confirmed with an email), a $50 late fee will be applied to each week of camp. If full payment has not been received by May 1st or 30 days after the original due date your deposit will be forfeited and your registration will be cancelled.
Cancellations and Refunds
Cancellations of a Camper's Registration may be done at any time, but Refunds for a cancelled session depend on the following:

*On or before April 1st: If registration is canceled prior to April 1st, total payment will be returned, minus the non-refundable deposit. If payment was made by credit card, a 3% credit card processing fee will apply to the refunded amount.
*After April 1st, before May 1st: If cancellation occurs on or before May 1st, half the total payment will be returned, minus the non-refundable deposit. If payment was made by credit card, a 3% credit card processing fee will apply to the refunded amount.
*After May 1st: No refund is offered if cancellation occurs after May 1st.
Cancellations must be done via email to be eligible for a refund of any kind.
*Tuition Insurance: Tuition Insurance may be able to provide refunds of your tuition, when camp does not. See below for details.
Cub Creek Science Camp happily accepts all campers who are willing to abide by the rules and policies of camp. We try our best to make every camper experience work for every child while they are here with us. However, at our sole discretion, we reserve the right to dismiss any camper, without a tuition refund, whose behavior does not comply with camp rules or policies or is harmful to themselves or others.
Camp Store Money
Beginning in the Summer of 2021 Camp began no longer issuing camp store refund checks at the end of each session. On the last day of each session, campers will be told their remaining balance and will be given the opportunity to spend their money. When Parents arrive on Check-Out day, they will be asked to specify what they would like done with any remaining funds. They can choose the following options:

1. Applied to a future session's tuition or camp store, or
2. Donated to the Bear River Project (Camp's non-profit charity which supports our scholarship fund and Animal Care).

Money applied to a future session's tuition or camp store will not be included in refunded amounts if a refund is needed. Note: Please don't deposit more money into your campers camp store account then you wish for them to use during their session. Our recommended amount has always been $50 per session. However, parents can easily add more money, if needed, by calling our office.


Switching Sessions
Sessions can be switched at any time for any reason as long as space/availability allows. Depending on the time at which the switch needs to be made:

* With two weeks notice from the start of the session: Deposits and all tuition will be moved to a new session.
* If a camper session is switched with less than 2 weeks prior to the start date: A $50 charge is applied and deposits are non-transferable to the new session. (see more in "deposits"
* After April 1st: Tuition must be paid in full in order to move campers between sessions.



---
Cub Creek's COVID-19 Policy
Last updated 6/10/2021

We intend to run camp in the safest way possible, while still allowing campers to have fun and enjoy camp and each other. We will follow the guidelines and best practices that are current at the time of our summer season. Our policies are subject to change as we attempt to provide a great camp experience and maintain the health and safety of our campers and staff.

We have broken down our policies into Pre-arrival and at Camp. Our COVID-19 waiver outlines what we expect families to understand and acknowledge prior to their child's attendance at CCSC for the summer.

Prior to Arrival at Camp
l. Parents are asked to review this COVID-19 Policy and to sign a COVID-19 Waiver prior to their child's arrival at camp (see last page).The waiver has been added to the required paperwork section of CampWise.
2. Campers with underlying health issues are at greatest risk of complications due to COVID-19. We ask that parents consult with their family doctor about the appropriateness of camp for their child.
3. Campers with Allergies: Because allergy systems may be confused for COVID-19 symptoms, our camp physician has advised any staff or campers with allergies to consider taking an over the counter allergy medication beginning one week prior to their arrival at camp and continuing through the end of their session. Please note that this should be reviewed with your family physician and any allergy medication should be added to the list of medications in CampWise.


During Camp
Upon Arrival/Check- In
l.As in the past, we will greet you in the driveway with instructions regaring check in procedures. 2. We are expecting the check-in process to be very similar to past years. However, we are asking everyone to maintain physical distancing between family groups during the check in process. Physical distancing between campers on check-in and check-out day is at the discretion of each camper's parent(s).
3. To limit physical contact, our staff have been asked not to give hugs.

Physical Distancing
Taking into consideration the spontaneous nature of campers, the physical spaces at camp, and specific activity requirements, we don't believe that social distancing, as we have come to know it in America, is possible at camp. However, we are prepared to encourage, teach and ensure greater physical distancing whenever it is appropriate.

l.We do not expect to reduce the number of campers allowed in a cabin in 2022, however our cabins are larger than most camps and offer space to spread out.
2. Chairs at activity locations will be arranged to provide greater space between people.
3. Evening activities and other large group activities will be modified to provide more distancing between campers.
4. But, there will be times when campers just need to give a pat on the back, a high five or a congratulatory hug.


Face Masks
We will no longer ask campers or staff to wear face covering unless the health lodge staff feel that it would be appropriate.

l. Camp will provide a bandana to every camper. Campers will be taught how to fashion these bandanas into DIY face coverings that can be used if the need arises for a face covering.
2. Campers are welcome to bring their own face mask from home. Masks, bandanas and tubies will also all be available in the camp store and may be used as a face covering.
3. Campers and staff will be asked to wear face covering during all up close interactions with our lemurs.


Dining Hall
l. All tables, counters, and regularly touched surfaces will be disinfected after every meal.
2. Everyone will wash their hands as they enter the dining hall.
3. Temperatures will be taken as campers enter the dining hall at lunch time each day.



Health Lodge
While camp offers a well equipped and modern health lodge with multiple rooms for isolating sick campers, camp is not prepared to house campers who test positive for COVID-19. Therefore,

l. Anyone with a fever will be isolated in order to determine if it could have occured for reasons other than illness (e.g. outside heat or exercise). If after evaluation the fever is still present, a covid-19 test will be administered. If a camper with a fever tests positive for COVID-19, their parents will be called and they will be asked to pick up their camper.
2. Campers who show symptoms of illness will be evaluated and parents will be notified if they require more than 2 hours in the health center or a covid test is recommened.
3. The Health Lodge will be disinfected on a continual basis.


Cabins

l. All commonly touched surfaces will be disinfected daily.
2. Physical distance will be maximized as much as possible within the common area.
3. Disinfectants will be available in every bathroom.

Campwide Sanitation
l. Bathrooms in the dining hall will be cleaned regularly.
2. Community Bathrooms will be cleaned regularly.
3. Soap will be present in every bathroom.


Parent Notification
l. Parents will be notified within 2 hours if their child develops a fever or spends more than 2 hours in the health lodge.
2. Spending a week or more in a residential camp setting is sure to expose a camper to a wide variety of germs, both bacterial and viral. For this reason we recommend that parents consider their camper "exposed" to covid-19 upon their return home and take appropriate procautions to keep them from spreading any potential contagian to vulnerable family member or the community.


---
Cub Creek Science Camp's COVID-19 Waiver
In light of the COVID-19 virus, Cub Creek Science Camp has made changes to some of our programs, policies, and procedures. These changes are highlighted below, but may change as we receive more information and guidance from the CDC, ACA and other professionals.

l. It is Cub Creek Science Camp's policy that no camper may attend camp if they or any person living in their home, shows or has shown any symptoms of COVID-19 in the 14 days prior to their arrival at camp. And, no camper may attend camp who has knowingly been in contact with someone who has symptoms and/or who tested positive for COVID-19 in the 14 days prior to the start of their session.
2. Campers and Staff who have a fever without the ability to confirm that it is not a result of COVID-19 will be asked to leave camp.
3. All core activities including our Adopt an Animal program and Jr Vet will continue. It is possible that other activity choices may not be offered this summer due to the reduced size of the program. However, just as in the past, any group of five campers can petition for an activity to be added back to the week's schedule.

By signing this waiver, I acknowledge that I have read, understand and am willing to abide by the Cub Creek Science Camp COVID-19 policy.

By signing this waiver, I further acknowledge that,

l. There is a chance that myself or my camper could be exposed to COVID-19 on the camp facility and that Cub Creek Inc. will not be held accountable.
While Cub Creek Science Camp is taking precautions and trying to keep everyone safe, they do not promise a COVID-19 free environment.
2. I have a strategy in place and am prepared, if needed, to pick up my camper within 24 hours should they show symptoms of COVID-19. While camp offers a well equipped and modern health lodge with multiple rooms for isolation, camp is not prepared to house campers who show symptoms of COVID-19. Therefore, any camper or staff with a fever will be asked to self quarantine off site for at least 14 days.
3. Camp has advised me of the need to prevent my child from having close physical contact with anyone who is over the age of 65 or otherwise in a medically compromised condition for 14 days after returning home from camp.


This waiver is only signable through Campwise. Please log into your account to sign this document found under "Forms".
---
Camp Insurance
Camp Tuition Insurance is recommended to help protect your investment in your child's tuition cost. While Cub Creek does not offer refunds for cancellations after May 1st, in many instances your camp tuition insurance would be able to provide a full refund of tuition cost. Click Here to learn more and purchase camp insurance.



In regards to settling disputes: Any litigation regarding Cub Creek Inc must be filed in Phelps County, Missouri.