Science at Camp
Science is in our name and it's our main game! At Cub Creek Science Camp, science is incorporated into everything we do! We encourage our campers to explore, experiment, ask questions, and try lots of new things. We engage their curiosity and give them opportunities to strengthen their problem solving skills. Campers learn by "doing" and have a whole lot of fun in the process. If you're looking for fun STEM activities for your camper this summer, you're in the right place!

Many of our campers come to camp loving science and are excited by things like physics and chemistry. Other campers come because they love animals, arts and crafts, or other activities offered at Cub Creek. What all campers find out, is that science is everywhere! At Cub Creek Science Camp, we believe learning is fun and especially when kids are given the opportunity to investigate their passions. We want campers to realize that being passionate about science is nothing to hide! People have done amazing things with their passions in the hard sciences and animal science. We want our campers to go on and do great things, too!
Classes
Courses
Look below for a list of our Science activities.
Chemistry
Chemistry is the science of matter. Chemistry is often called "the central science" because it connects physics with other natural sciences such as geology and biology. At Cub Creek Science Camp, we love to help grow a camper's passion for Chemistry through fun and engaging activities. Campers can take the Chemistry course for the whole week, or sign up for individual chemistry classes.
Giant Bubbles - A camp favorite, this class dives into surface tension and light refraction in a fun (and messy!) way. Campers of all ages enjoy creating bubbles and seeing how to and who can make the largest one!
Oobleck - What is both a liquid and a solid, while being neither a liquid or a solid? Oobleck, of course! Campers create this Non-Newtonian fluid and/or solid right in their hands! Oobleck is an interesting, messy, and fun way to see Chemistry at work!
Flubber - With a few simple ingredients, campers mix up flubber and discuss what makes it hold together. Polymers are the topic of class as campers make bouncy balls and squishy slime! As the group adds more water, they see how much the flubber changes. Why is that? You'll just have to come and see!
Invisible Ink *NEW* - Have you ever wanted to send your friend a secret message that no-one else can read? Then you might know of invisible ink - a special type of ink that you can use for writing that does not show up on paper. Learn how to create invisible ink while learning the science behind acids and bases, mixtures and solutions.
Foaming Fake Snow *NEW* - In this fun activity, you can experience something similar to snow anytime. Mix together common kitchen supplies to make a sculpted object, and then let it "melt" away.
Physics - Life in Motion
Physics is a branch of science that studies how and why things work. An understanding of physical principles has allowed mankind to float on water, fly through the air and even land on the moon! In this course campers learn how things work… and why they sometimes don't!
(Not So) Simple Machines - Use levers, pulleys and inclined planes to create some of the oldest machines known to man. Campers will work together to build a pulley system that can hold and (safely) lift one of their friends in a chair!
Catapults - With a few simple materials, campers can construct this small ancient machine on their own. They'll then test it by launching some items!
Newton's Cradle - Learn about Newton's laws of motion by experimenting with pendulums. Campers will also build a Newton's cradle to further explore these laws.
Balloon Vehicles - Campers will race balloons and create balloon hovercrafts as they learn about the laws of motion and friction.
Water Rockets - Campers build rockets and then watch as air pressure launches their creations into the air! This is a popular physics' activity that combines Newton's Third Law of Motion with a fun camp twist!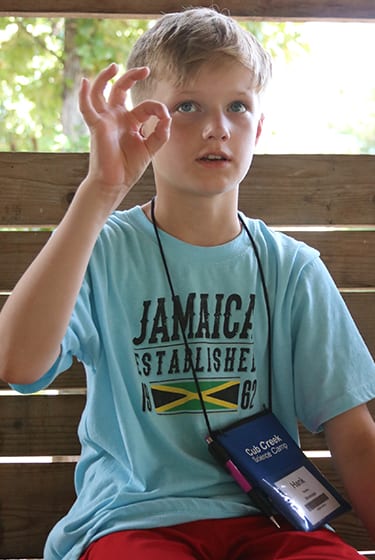 Engineers in Training
Engineers use their knowledge of how things work to solve a range of problems we encounter everyday. Following the engineering process, campers will learn how science can be put into practice to create, build and fix common machines and structures.
The Impossible Bridge - Using only rubber bands, pencils and a 500-year old plan, campers will create a free standing bridge able to hold over 5 lbs
Shocking Circuits - Understand circuits by using a circuit building set with lights, motors and fans. Then, campers use thier knowledge to build a flashlight and electromagnet with just the needed materials.
Taking Flight - Build the perfect paper airplane and challenge your friends to a competition. After some trial and error, and an understanding of the physics of flight, campers will make their best paper airplane.
Rollar Coaster Challenge - Theme parks rely on engineering and physics to build your favorite rides and rollarcoasters. Use recycled materials to build a rollarcoaster that will allow a marble to safely complete the course.
Tinker Lab - Have you ever wanted to tear something apart to find out how it works? In this class, campers will discover the inner working of small appliances, such as CD players, radios, and hair dryers.
Mission to Mars
It takes a lot of science to travel to space! Space Exploration has facinated humans for hundreds of years and requires lots of science, engineering and technological advances to get us there. Campers will learn what it takes to launch into space, land on mars and get collected data safely back to Earth.
Exploring Our Cosmic Neighbourhood - Before you can launch into space, you need to know what is out there. Learn about what makes up the solar system and how big it really is. Discover some of the tools, such as telescopes, that help us see the stars and beyond.
Launch Day - Experimenting with propulsion, aerodynamics and energy transfer, campers will build and launch rockets to get their rovers out of Earth's atmosphere and on its way to Mars.
Silver Dog for the Red Planet - The Mars rover was launched in 2020 to study the surface of Mars. Campers will design their own Mars rovers that are equipped to travel over the surface of mars and take important measurements.
The Rover Has Landed - Before it can begin collecting data and specimens from Mars, the rover needs to land in one piece. Campers will devise and test a device that can provide safe atmospheric entry and gentle landing of the rover on the red planet.
Can you Lend me a (Robotic) Hand? - Campers will build a robotic arm similar to the one built for the Mars rover to collect data and measurements on the surface of Mars.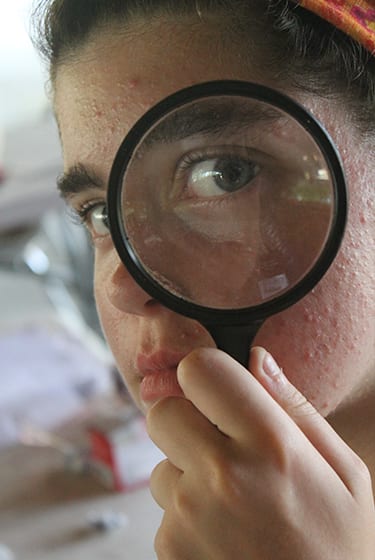 Crime Science
Crime Science is the scientific study of the nature, extent, and causes of criminal behavior. Knowledge of both hard and social sciences help to successfully uncover mysteries. Combining multiple disciplines gives detectives the tools they need to solve puzzling mysteries. From testing fingerprints to analyzing fake blood, campers will form a detective team to work to gather the evidence to convict your fictional felon.
Follow the Prints - Capturing a legible fingerprint and tracking footprints or vehicle tracks may be harder than you think! Campers will learn how to pull fingerprints and then practice rolling each others fingerprints with ink and paper.
Trace Evidence - Can that thread left behind at the crime scene really help solve the crime? Is that white stuff on the floor chemicals tracked in, gun powder residue, or just flour from cookies made last night? Get up close looks at different fibers, hair types, and powders to see what a really small clue could lead to.
Handwriting and Ciphers - Can you tell the difference between two people's handwriting? Can you decode a ciphered message? Campers will learn skills to solve both puzzles in this exciting and mysterious class. julius Caesar says, "TFF ZB UIFSF!"
Blood Basics - Campers learn the basics of blood evidence in this class that teaches about blood types, bloodstain patterns, and how Forensic Scientists test for blood in a crime scene. Things get messy when campers have fun mixing up fake blood!
Whodunnit? - Older campers set up a mock crime scene, and the junior campers use their skills to assess the scene and determine the next course of action. By the end of the class, the team should have solved the crime, found motive, and captured the perpetrator!
Did you think that was it? We have plenty of other classes and courses offered in science, adventure, arts & crafts, nature and even more! Click the button to your right to explore more.