Our Team
Cub Creek Science Camp has a year-round team dedicated to making the summer camp experience for our 2000 campers the best it can be! In addition to the staff you see listed below, camp has several seasonal interns that help care for the needs of our animals and a year round maintenance and building crew.
Lori & Scott Martin
Founders, Owners, Directors
Scott and Lori Martin are the Founders, Owners, and Executive Directors of Cub Creek Science Camp. They met working at a summer camp in 1985 where Scott was running the Ropes Course and Lori was a camp counselor. They fell in love that summer and married three years later in 1988!

Together they have built a unique program for children to experience the wonders of nature, explore the marvels of science, and get up close and personal with a number of different animal species; all while ensuring that camp is run in a way that honors their Christian worldview. Scott and Lori have two daughters who have been involved in every aspect of camp. They will tell you that camp is in their blood and how much they loved growing up surrounded by animals and nature.
Natalie Randall
Program Director in charge of Staff Recruitment and Training
Natalie is our Program Director in charge of Staff Recruitment and Training! She also oversees camp's daily operations including helping with camper registrations and answering your phone calls. Natalie is also working hard at developing our Gap Year and Volunteer programs.

She is from Australia! Back in Australia, Natalie earned her Zoo Keep certification at the Symbio Zoo and most recently worked in the Education Department of the Taronga Zoo in Sydney. Natalie worked at camp in the summers of 2007 and 2008! She's excited to introduce campers to camp's interesting animals, eat S'mores, and come back to the place where she had so many great memories. 2022 is Natalie's 6th year at camp.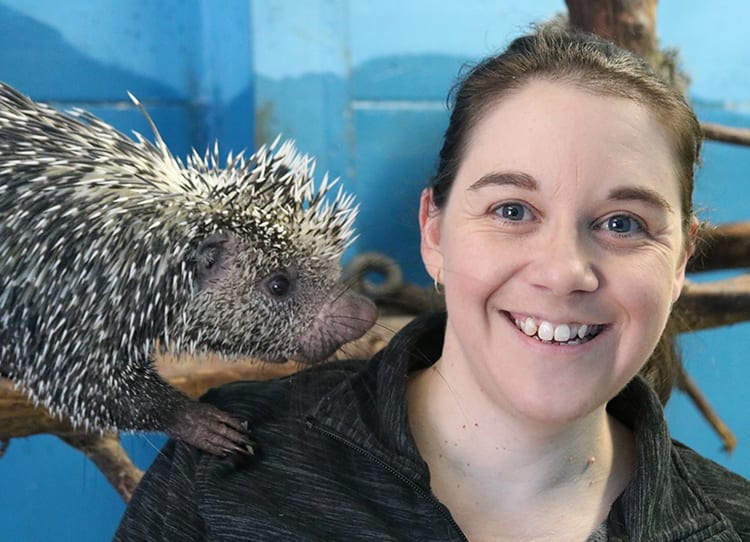 Scott Gardner
Program Director

Scott is our Program Director overseeing the ASIT program; Adventure programs, which includes ropes courses, aquatics, caving, riflery, archery, etc; and camp photography plus year-round marketing.

Although Scott is new to Cub Creek, he comes with a wealth of camp knowledge and experience. With over 20 years of service in the camp industry, he is passionate about all aspects of camp and loves introducing youth and staff to the camp experience! Scott is also highly experienced in ropes courses and team building initiatives, bringing exciting and fresh ideas to camp. He's very excited about camp this summer and is looking forward to experiencing a fantastic year here at Cub Creek. Scott is here with his wonderful wife, Lori, and their very adventurous daughter, Addy.
Nathan Davolt
Program Director

Nathan is our Program Director in charge of Curriculum Development and Wellness Coordination. He oversees the creation and implementation of our sensational courses and classes. During the summer, he will serve as chief supporter for all male campers and staff.

2022 is Nathan and his family's first year on our team. Nathan and his wife, Karrie, have been married for 10 years and have seven children. Before he came to Cub Creek, Nathan worked for many years in the area public schools and spent 5 years delivering and managing for Domino's Pizza. He loves working with words and has written a picture book for his children. Nathan is excited to bring his love of learning to the Cub Creek team and looks forward to encouraging both staff and campers as they develop the habits and skills to be today's leaders and tomorrow's heroes.
Makayla Clemens
Animal Programs Coordinator

Makayla supervises camp's animal area including the management of camp's year-round animal care teams. In the summer, she additionally coordinates our permanent adoption program helping cats, dogs and more find their forever homes.

Her history with camp started in 2012 as a camper. She has since been an ASIT, counselor, a summer animal specialist, and an off-season animal intern. Beyond camp, Makayla has a Bachelor of Science in Wildlife & Conservation Biology and worked at Safe Haven Wildlife Sanctuary with big cats like tigers and lions. Makaya helps to guide those with a future with animals by giving experience in animal handling and husbandry. She cares to give campers, ASITs and staff meaningful interactions with camp's animal family. 2022 will be Makayla's 9th summer at Cub Creek.
Claireesa Murphy
Office Manager

Claireesa is camp's Office Manager. She manages camp registrations and all office operations including overseeing camper and parent communications in the summer. This summer, she will also be a Wellness Coordinator for camp's female campers and counselors.

Claireesa started as a camper in 2004. Over the years, she has been an ASIT ( 2013-2015) , the Nurse's Assistant (2016), on the Transportation Team ( 2016), and a Camp Photographer (2018). 2022 is Claireesa's first year as the camp office manager, but her 14th summer at camp! She loves Cub Creek and the lifelong friends she's made here. She appreciates that camp gives kids a safe place to be their true selves and explore new interests. She is excited to see camp in a new way and help both campers and families get excited for camp.
Ellen Hardin
Nurse

Ellen is our full time, registered nurse that oversees the health and wellness of the campers and staff of Cub Creek. She is responsible for daily check-ins with each camper during meal times, medication passes, and is available to attend to any safety concerns during the campers stay. She lives on site with her husband Jonathan and their three children, Theo, Char and Veve; 2022 will be their second summer at Cub Creek. Since 2008, Ellen has worked as a nurse in both geriatrics and pediatric care, gastroenterology and home health and hospice. Growing up, she was a camp kid, having fond memories of spending her summers thriving at 4H camps. Now, she loves to expand those childhood moments by ensuring the well being of campers and staff while continuing to enjoy the fun she remembers as a child. Her heart is for every camper to have a fond memory year after year of spending their summer living life to the fullest.
Bruce & Jenny Harshman
Maintenance Supervisor and Camp Store Manager

Bruce is our Maintenance Supervisor overseeing all camp's upkeep, building, and facility safety. This summer, Jenny will be the Camp Store Manager maintaining the inventory and sales at one of camp's most popular spots! They met each other at a church on the camp Jenny grew up on. They both come to camp with lots of experience and have a passion for youth. Bruce and Jenny love being at camp and getting the chance to help create an environment where children can come experience camp and make life-long memories. They raised two girls and two boys; of which, the younger two, Travis and Josh are living with them here at camp.
Paul "Chef" & Erika Bailey
Kitchen Manager

Paul is our Kitchen Manager. He will be supervising the kitchen team this summer and organizing the preparation of all of our camp meals. In the off-season he coordinates all of the meals and catering for group events. Erika volunteers daily in our animal area. Paul has over seven years of culinary experience in cooking for youth camps. He looks forward to bringing fresh ideas to some of our classic meal options here at camp. He lives here at camp with his wife, Erika. They have a small zoo of their own with 2 dogs, a cat, 3 snakes, a bird, a bunny, and a Vinegaroon! They're excited to join Cub Creek for the first time this summer.
The Summer Team
While our summer team is only here for 3 months, they are a HUGE part of our summer camp experience! Our summer team consists of nearly 90 people from around the globe who all have one thing in common; A love for nature, science, animals and our campers!