Daily Schedule
No matter the session, all weekdays of camp are structured the same. Our standard animal, science, nature, adventure, and arts and crafts activities are offered all summer long. For campers who stay longer than a week, the weekends are a TREAT and they have a different schedule than the weekdays. Campers also have fun with our themed weeks! Read about Stay Over weekends and Theme Weeks HERE.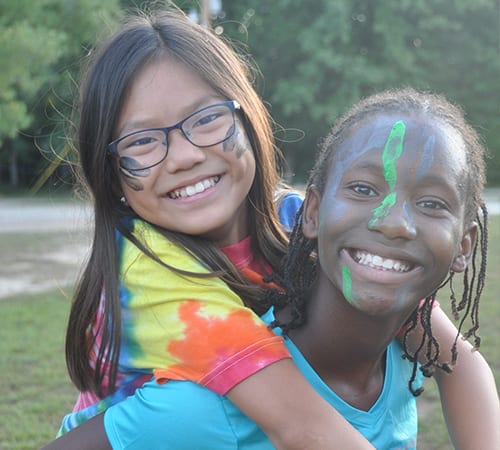 A Day at Cub Creek
7:00 am : Early Bird
An optional activity for early risers. Join us in the pool for an cold dip or take a walk to enjoy the morning views at the Glade.
8:00 am : Breakfast
The first meal of the day is served buffet styles with cereal, bagel, and oatmeal alternatives available. Camp breakfasts include pancakes, breakfast sandwiches, and a camp FAVORITE quiche!
9:30 am : 1st Activity Period
Campers go to their first acitivity period of the day at this time. Remember these are the courses and classes that campers have chosen for themselves!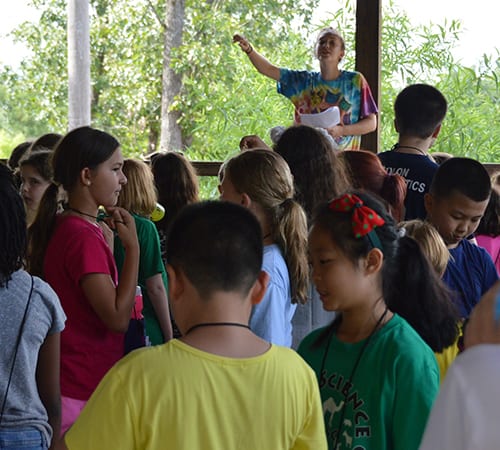 10:45 am : 2nd Activity Period
Activities continue with 2nd period. Both 1st and 2nd period are class period for Junior Campers and a course period for Senior Campers.
12:00 pm : Free Time
Campers can spend time at their favorite parts of camp including the animal area, trading post, computer cafe, hammocks, game pavilion and swimming pool.
1:15 pm : Lunch
During this meal, campers receive their Mail. Lunch time is sometimes accompanied with a talent show or fun educational video.
2:00 pm : Siesta
This cool down time is held back at the cabins. Campers who wish to take a nap are given the chance to with dimmed lights and quiet voices. Campers are also welcome to engage in other quiest activities like reading or crafts and sometimes can be found eating a snack on the porch.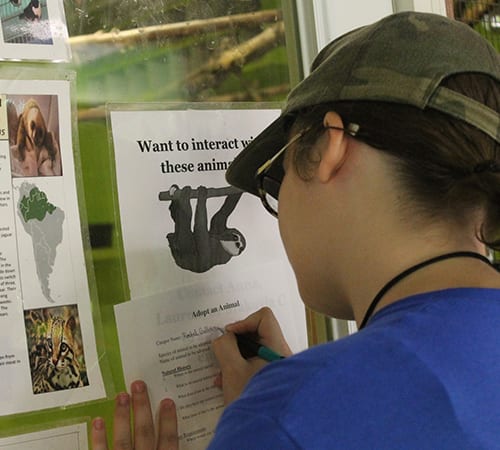 3:00 pm: 3rd Activity Period
Campers return from siesta well rested and ready to continue activities for the day.
4:00 pm : 4th Activity Period
Activity Periods end with the 4th period. Senior campers will be doing their classes, while Juniors are participating in courses.
5:30 pm : Dinner
The last meal is a great time for the cabin group to get together to share their stories from the day. Dinner offers the most meal variety for campers when all options like a potato bar, salad bar, microwavable options, fruit and vegetables, and cereal are available outside of the meal being served.
7:30 pm: Evening Activity
A Camp-wide group game is held every night of camp! Changing every night, these activities are a time to bond with your cabin and hang out with the friends made in other activities.
9:00 pm: Night Owl
This late night acitivity is optionial for campers with lots of energy!
Lights Out
Bed-time differs between Senior and Junior campers. When lights go out, campers may stay up if needed, but they are asked to do quiet activities to be respectful of campers who a looking to rest for the night.
Theme Weeks at Camp
To help make each week at camp here just a little different than the others, we have Theme Weeks! Each camp week has a different theme that we match up with camp activities and decorations to help bring a little more fun to the week. Camp themes are not required to be participated in by any camper, but why not have a little bit of fun?!

2019 Camp Themes are in the works right now! So stay tuned for the announcement any time!

To check out last year's Theme Weeks, check out our Pinterest, here!
The Weekends
For campers staying with us for more than one week of camp, they will be doing what we call Stay Over. Our two week sessions were designed to have the ultimate weekend fun, but we also have activities scheduled on the Saturday stay over for campers staying for multiple one-week sessions.

Between weeks 6 and 7 and weeks 8 and 9, we have a fun weekend called Stay Over Weekend. Campers enjoy sleeping-in and having a come-as-you-like breakfast. They then decide as a cabin how they want to spend their day! This is a time when campers can spend time in the pool, have a massive water balloon fight, or go for a hike. Many cabins think of fun and unique ways to spend their day! Lunch and dinner are kept on the same schedule as they are during the week and Siesta is extended to allow campers time to recharge from their busy week! An acitivity is planned for the day that is optional for campers. In 2018, we rented a huge inflatable waterslide that campers spent hours on! The relaxing day ends with an Evening Activity that is only offered during these sessions.