Arts & Crafts at Camp
Arts and Crafts have been a cornerstone of summer camp programming since its inception in the late 1800's. We offer many traditional camp crafts like friendship bracelets, candle dipping and tie dye. But, we also offer more technical crafts, that allow campers to develop and try to master a skill. These include pottery, ceramics, culinary arts and photography. Depending on a campers passion for arts and crafts, they can try a single arts and crafts class, or explore more by signing up for one of our week long courses.
Classes
Courses
Look below for a list of our arts & crafts related courses and classes.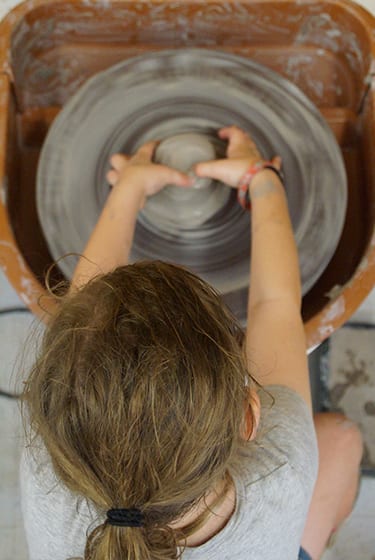 Pottery
Whether you enjoy working on the wheel or forming your own original sculpture, working with clay can be a very rewarding experience. Campers have the opportunity to let their imaginations soar as they learn to create wonderful works of art. During the week long course, campers will learn to use our slab roller, extruder, and the pottery wheels as they create with clay.
Tile Making - Campers will use our slab roller to flatten a ball of clay into tiles. They will then press natural resources from around camp, such as flowers, grasses and twigs into the clay to create organic patterns and designs.
Pinch Pots - Starting with a ball of clay, campers will use a pinching method to create a simple form of hand made pottery called a "pinch pot". Creativity is encouraged as campers can create anything from creatures to jewelry dishes!
Coil Pots - The "Coiling" technique used to make these creations, dates way back to Ancient Greece! Campers will roll out long, cylindrical tubes of clay, then coiling them into pots gradually stacking and joining coils of clay one on top of the other.
Slab Construction - Using the things learned in "Tile Making", campers will create slabs and place them together to make a larger object. Building pottery using slabs of clay is a unique way to create shapes that couldn't be made with a potter's wheel.
Wheel Throwing - Learn how to use the pottery wheel to make your own bowl, cup, plate and more! Wheel Throwing is also offered as a course for campers who would like to spend time learning how to perfect the art of the pottery wheel!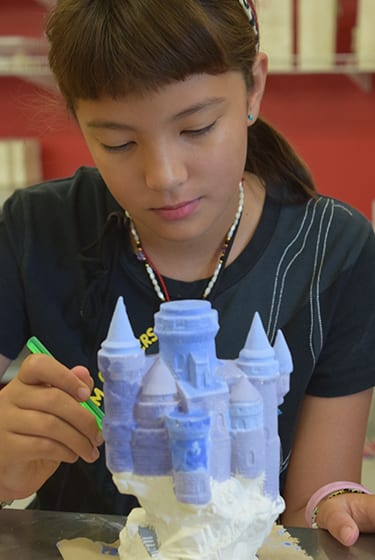 Ceramics
Our ceramics studio is equipped with its own slip table and dozens of ceramic molds. In the ceramics course, campers can learn to pour a mold, trim and fire their greenware (unfired pottery), and glaze their sculpture! At the end of the week, they will have a piece of artwork to take home. Campers who don't want a full week of ceramics' fun can choose to drop by for an hour of ceramic painting.
Ceramic Mold Pouring - On the first day of the ceramics course, campers choose what piece of ceramic they would like to paint and fire. This ceramic mold has already been poured and dried, but they will need to replace the one they took! We allow them to pour a replacement mold of the one they chose so a future ceramic student can choose the same.
Greenware Trimming - When a mold is poured, it needs time to fit and take the shape of the mold before removal. Campers will learn how to remove the poured clay from the mold, trim up the edges, then allow it to dry and become a piece ready to paint.
Ceramic Painting - Each camper will paint a ceramic sculpture of their choosing during the week. Painting takes a lot of patience, so this is a great way for campers to spend time centered and relaxed. We love seeing what they create!
Ceramic Firing - After painting their masterpiece, campers will learn how to load their artwork into the kiln! The Kiln process requires a lot of practice, so the Instructor will be making sure the kiln is loaded properly. Campers will learn about the history of Kilns and the multiple uses for them in different cultures and in history.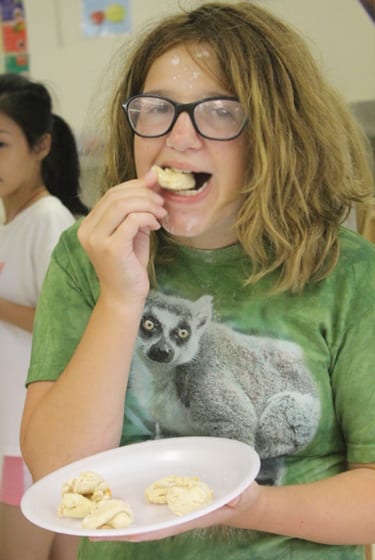 Culinary Science
In this course, campers will make a variety of culinary delights. With little science lessons intertwined within the course, campers are learning about the science behind cooking while making delicious treats!
Ice Cream, Jams and Syrups - Exothermic reactions are chemical reactions that release heat. When campers make ice cream in this class, they see how this reaction works in a delicious way! Campers will also learn about the properties of food preservation and sugars when they make their own syrups and jams.
Dumplings and Pretzels - In this class, campers make their own dough with flour, water, sugar, salt , and yeast. They talk about the process of allowing the dough to rise and the chemical reaction that sugar has with yeast to create the gas that makes it swell!
Pancakes and Butter Campers will learn about emulsions and fats by churning their own butter. They will also review what they have learnt about flour in previous classes by also making pancakes.
Let's Bake a Cake Campers will make a variety of cakes to find out how heat and expanding gases makes a light and airy cake.
Cake Decorating With Cupcakes made the day before, campers will learn different decorating techniques including how to pipe flowers, leaves and different borders.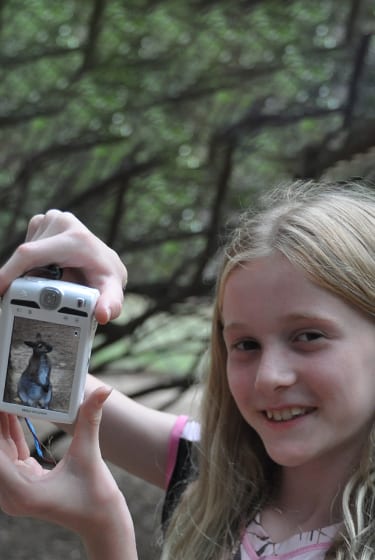 Digital Photography
Learn how to photograph animals, people, and scenery with ease! In this course, campers venture out into camp with a camera and endless possibilities. Each day has an objective to help campers get an eye for photography. At the end of this week long course, campers will take home a CD with all the pictures from their course!
Photography 101 - Learn the fascinating history of the camera and photograph by building your own "Camera Obscura"! Campers will then dive into the basics of taking a great picture.
Nature's Alphabet - This is a photographer's hide and seek. The group will look for the shapes of letters out in nature and photograph them. By finding a "Y" in the shape of a tree, or an "O" in the shape of a puddle, find all 26 letters of the alphabet by the end of class!
Tricky Pics - It's all about perspective. Learn how to make the impossible happen by tricking the eye and camera with these fun and funny pictures. Campers will think of creative pictures to take and pose with their friends in this class.
Photos from the Field - Today camper's will go "on location" to get some great action shots. They may follow around the camp photographer or photograph nature i the Animal Area or on our beautiful nature trails.
Uploading, editing and storing photos - At the end of the day, photographers have to select their best pictures to present for a portfolio. Campers will go over their photos from the week, choose their best, and create a portfolio on a disc drive to share with their peers.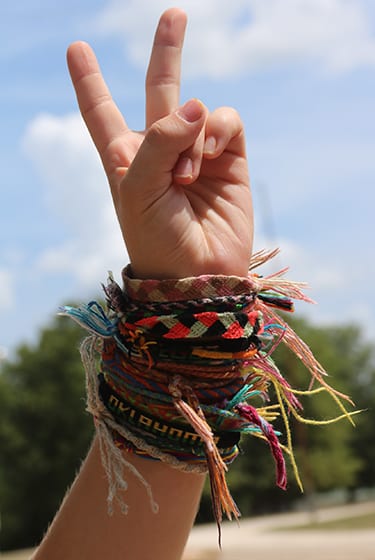 Additional Arts & Craft Classes
We have SO many arts and craft classes available at camp! Camp classics like Tie Dye and Friendship Bracelets live here because they are available multiple times a week as classes not associated with a course. New and different Arts and Crafts are offered every summer. The possibilities are endless!
Tie Dying - How can anyone think of camp and not think tie-dye?! Bring a white t-shirt or anything else white and we'll make it campy in this traditional summer camp arts and crafts class.
Friendship Bracelets - Make one for yourself and share one with a friend! This camp class is iconic and allows campers a chance to create something that is a memory keeper while gain skills in a traditional art. Advance your skills with Advanced Friendship Bracelets that teaches campers how to make really complex patterns!
Animal Origami - The art of paper folding has a rich history is Japanese Culture. Campers will learn the modern forms of Origami by making folded paper animals, flowers, and even 3-d objects.
FIMO Art - Use polymer clay that bakes hard and creates intricate patterns on the outside of a pen. Campers enjoy the process of creating a unique pen to carry around in their name tag!
Beady Buddies - Create animals by stringing together colorful beads. Show off your work by attaching a keychain and displaying your beady buddy on your bag or name tag! For a more intricate craft, try "Seedy Buddies"! These beads are so small they fit on a safety pin!
Paracord Bracelets - Campers create a useful and artful survival bracelet or lanyard out of paracord that can be unbraided and used in a pinch.
Did you think that was it? We have plenty of other classes and courses offered in science, adventure, arts & crafts, nature and even more! Click the button to your right to explore more.