Camp Alumni
We are excited to expand our opportunities for camp alumni to include options that allow for more flexibility in their summer schedules, off-season events, and even ways to get *paid* by helping us recruit camp staff!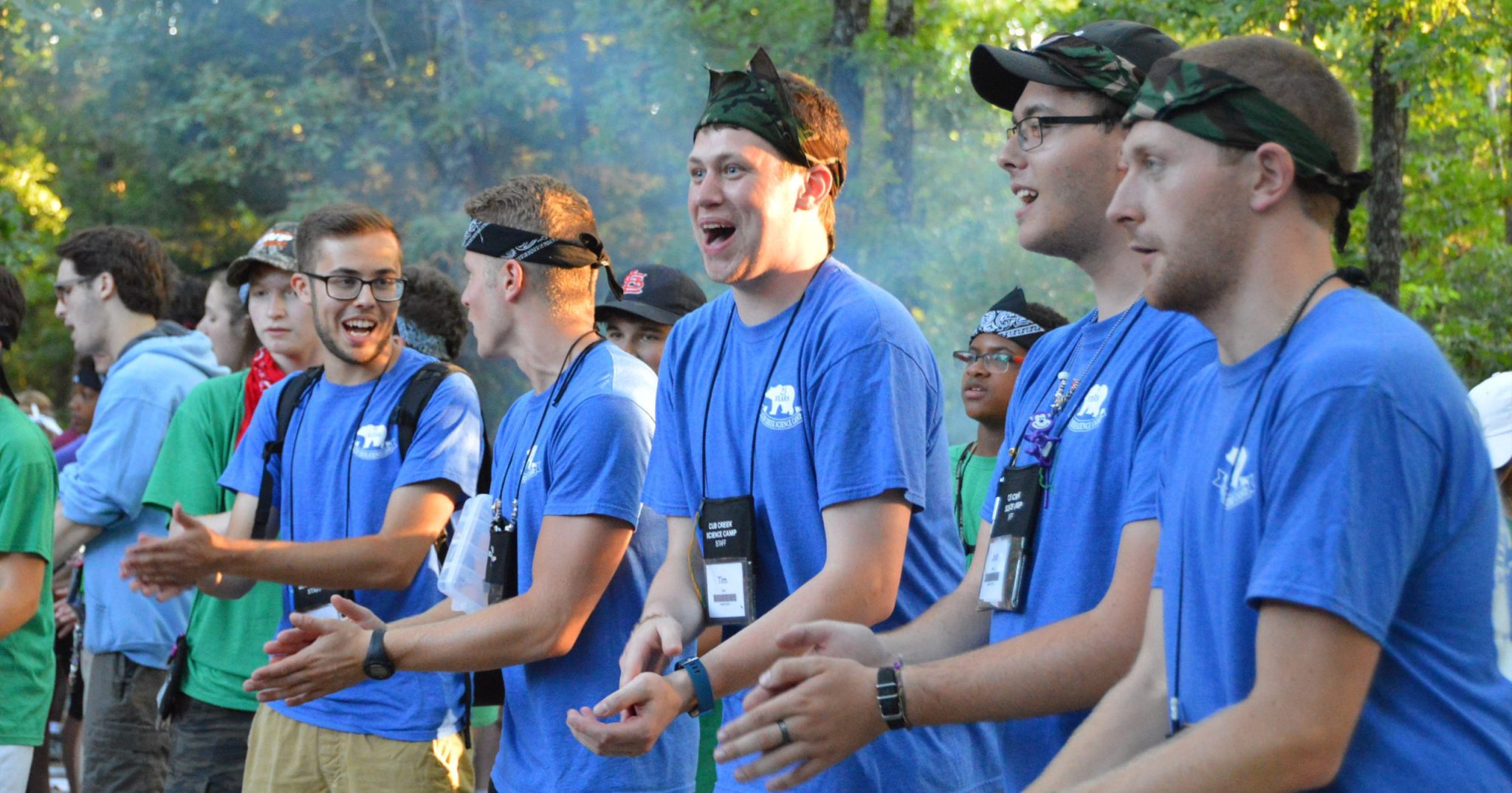 Opportunities for Alumni
How can you stay connected after camp? Many ways! We know that coming back to camp isn't always feasible for those who have been with us in the summer, so we want to lay out all the ways we want you to be able to stay connected with Cub Creek.
Work at Camp a Full or Half Summer
Join us as summer camp staff! Options include Full or Half summer with a range of positions available. Open to any former Cub Creek staff.**Recent graduates of highschool who have not attended college must apply for Junior Counselor.

Be an Alumni Mentor
*New!* Join us for a partial summer as a mentor in a cabin! For those who are unable to commit to a full or half summer. Position length is a minimum of 2 weeks. In-cabin position. Read more here! Open to any former Cub Creek staff.
Earn Referral Bonuses
We're excited to offer *money* to those who help us find staff! Refer someone to work at camp and earn $200 per referral. Yes, we're serious! Open to ANYONE: former campers/ASITs, past staff, first-timers to Cub Creek staff team. Read more here.
Be a Campus Representative
Can't work for us this summer, but still want to help? be a campus rep! Help us spread the word about camp and earn money for every referral/camp staff you send our way! Read more here.*This is open to any former staff currently enrolled in college who either are or are not working for us!


Attend Alumni Events
We'll be hosting alumni-only events right here at camp. They will be designed so that you can visit camp and the animals and meet up with friends. Right now, we will be sending those announcements via email, so be sure to join the Alumni Network here . Open to all camp alumni (former campers and staff).

Other Ways to Contribute to Camp
We're working on other ways for former campers and staff to aid us in growing and bettering camp! Stay tuned for annoucements in the Alumni Network. *This is open to any camp alumni, former participants and staff.


Working at Camp
Returning Staff have many options when it comes to positions at camp. Don't limit yourself! If you read about a position and you are interested, apply for it! If we feel like you would be a good fit for that position we will discuss it in your interview. You can also express your interest in many positions, this helps us when planning for camp as well. Remember that leadership positions are competitive and based on experience; And all positions are first-come-first served- so apply soon! Read the full list of positions on the "Current Openings" page of the website.
Alumni Mentors
We often hear former camp staff saying how much they miss camp and how they wish they could come back, this is one of the ways that we feel can help make that happen! We're very excited to offer camp alumni an opportunity to join us for a portion of the summer. These positions are in-cabin only as we intend to have these mentors be role-models and aids in the cabin dynamic.

Pay: is $300 per week
Length of stay: Minimum two weeks
Eligibility: Past camp staff

Campus Representatives
In recruitment, our most valued resource is former camp staff. What we say we offer is only supported by your experience with us and you sharing that with others. We would like to build an opportunity for former camp staff to share their experience, help us recruit, and earn money doing it! Campus Representative positions are only available for those currently enrolled in college who have experience working for camp. * A recruitment bonus is also available to those who don't fit the eligibility of a Camp Rep. See below.
Earn $200 for Referring Camp Staff!
We're offering $200, per hired staff *, that you refer to us! Yes- $200. When you refer someone to camp, that helps us tremendously in our hiring process. We're excited to be able to reallocate our marketing budget to give back to our current communtiy when they help us recruit. You can tell a friend or utilize your social media platforms to recruit. We've even made things to help you!

$200 is paid to the referree in the form of a check at the end of the summer. The referred applicant/staff must work the entirely of the summer for the referree to earn the full $200. For those who work at least half a summer (5 camper weeks), referree will earn $50. There is no limit to the number of referred staff AND the referral bonus is given to all our hired staff.

In order to earn the bonus, the applicant MUST use your name when applying or speaking to us. They are also able to send an email to office@bearriverranch.com after being hired to submit your name. (Work this out)
Join the Alumni Network!

The "Alumni Network" is a mailing list for all former campers/ASITs and staff where we will send all interested alumni emails regarding events and group updates. Join the network by filling out the form below.